Thank you Idaho Spuds for sponsoring this post. VeggieMash mashed potatoes are a blend of 100% Idaho® grown potatoes and real vegetables for a new take on a family favorite!
You guys! This might be one of the easiest meals I've ever thrown together for my family. BBQ Glazed Kielbasa Skewers over Broccoli Cheddar Mash ready on the table in under 15 minutes! You'll love how easy it is and the whole family will love how delicious it is!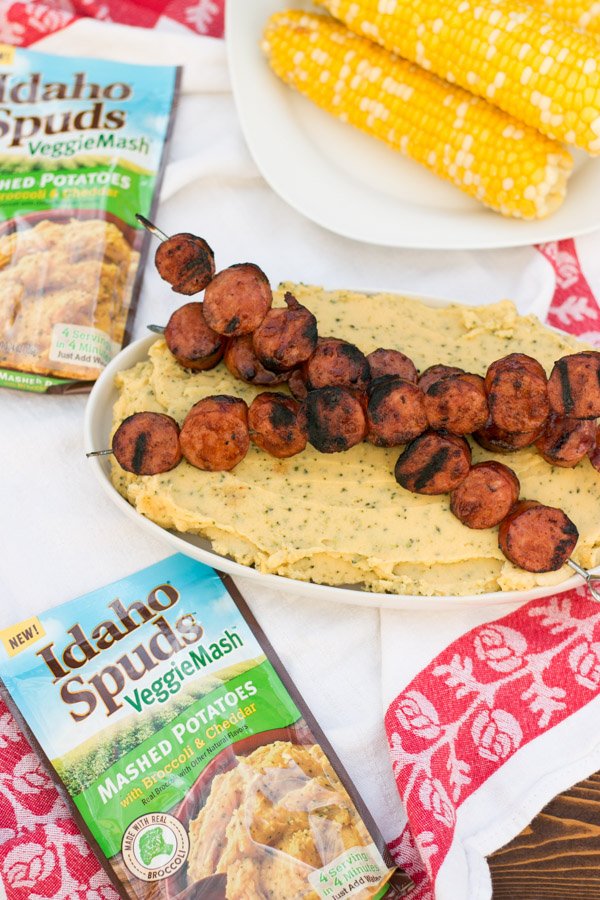 I  don't know about you, but wow have we been busy the last few weeks. I  seem to never have quite enough time in the day so the last thing I want is a complicated dinner that takes far too long to get on the table. I  have to say, I  also love not having to turn our oven on- our AC is awful and making the house even warmer is not fun. So this meal right here, well, making healthy choices has never been this easy thanks to Idaho Spuds™ new VeggieMash™.
Click on the tags in the above image to shop directly!
I am all for sneaking in extra veggies wherever I  can and this product right here is making that SO EASY! Whats not to love here- Real veggies. Real potatoes. Really tasty! For this dinner I thought the Broccoli Cheddar mash would go perfectly with a grilled meat… so thats when I  came up with this BBQ Glazed Kielbasa Skewers over Broccoli Cheddar Mash. Seriously you can have dinner done in 15 minutes!
This meal is so easy that I had my 9 year old help with most of it. Sliced kielbasa on skewers and brushed with your favorite BBQ sauce and grilled just a few minutes per side. The Idaho Spuds™ new VeggieMash™ only takes 4 minutes!!! You simply boil water then stir in the mix until perfectly creamy.  This is my kind of summer cooking! Dinner in no time at all and I can feel really good about getting my family to eat extra veggies without even knowing it.
I can't wait to try the other varieties too! I think next up I'm going to grill some shrimp, top with fresh bruschetta and serve over the VeggieMash™ with cauliflower, butter and herbs. How fantastic does that sound and really fast again! Don't miss out on all the summer fun stuck in the kitchen, keep it simple, keep it delicious and keep it packed with 100% Idaho® Potatoes and real veggies!
I've made grilled kielbasa before this but never thought to brush BBQ sauce on it and can I tell you – it is perfect! The saltiness of the kielbasa and then that great grilled char from the sugar in the BBQ sauce caramelizing… its so so good! Along with those creamy delicious Broccoli Cheddar Mash and some summer corn… this is a family pleasing meal!
BBQ Glazed Kielbasa Skewers over Broccoli Cheddar Mash
Ingredients
1 link kielbasa
bbq sauce
1 pkg Idaho Spuds™ Broccoli Cheddar VeggieMash™
2 cups water
Instructions
Preheat your grill. Slice the kielbasa into rounds thick enough for you to skewer. Brush with your favorite bbq sauce.
Bring 2 cups of water to a boil. Add the Idaho Spuds™ Broccoli Cheddar VeggieMash™ to a bowl. Once the water is at a boil carefully pour the water into the bowl and mix using a fork until smooth and creamy. Place plastic wrap over the bowl to keep warm.
Grill the skewers for 3-4 minutes per side to get a nice little char.
Serve the skewers over the mash.
I was selected for this opportunity as a member of CLEVER and the content and opinions expressed here are all my own.