Pasta, I love you!!! I've got another delicious pasta for you this gloomy Monday.  My brothers wedding is creeping up quickly! That all means, man have we been busy and the next several weeks are going to be even busier!! I'll be heading to warmer weather on Thursday for the Bachelorette weekend! So looking forward to a girls weekend in the sun! If you've been following along for a while then you know i'm on a weight loss mission! Started out just for the wedding but I am so thrilled with feeling better about the way I look, this is my new way! While I will never give up pasta, I know it packs lots of calories and carbs…so to help with that a bit, I love using Dreamfields pasta! Low carb but tastes no different then regular pasta and this Linguini with Sun Dried Tomato Pesto is a WINNER!
So what does all that have to do with my kitchen… well I'll be heading to the store this morning and then spending the next couple days cooking meals for the week so the hubby doesn't have to think too hard. I'll try to squeeze in lots of blogging time so I've got posts ready to go while i'm away.
Starting this week out with a super simple, flavorful and beautiful looking pasta dish! Sun dried tomatoes, garlic, parsley, basil and some homemade veggie broth make for a quick and fantastic sauce. I served some simple roasted cauliflower alongside. (bonus, the boys gobbled this up!)
Linguini with Sun Dried Tomato Pesto
serves 4
1 lb Dreamfields Linguini
1- 7.5 oz jar marinated sun dried tomatoes
2 Tbsp oil from sun dried tomatoes
6 cloves garlic
a small handful of parsley, stems removed
1 big handful of fresh basil, extra to garnish with
2 1/2- 3 cups veggie broth
Get the pasta cooking in a big pot of boiling water, to al dente, according to the box instructions. Once done, drain.
While the pasta is cooking you can go ahead and make the sun dried tomato pesto sauce. In a food processor add the sun dried tomatoes, oil, garlic, parsley, basil, salt and pepper. Pulse until very finely chopped. The colors are gorgeous!
Add the mixture to a large saute pan and allow to cook for about 5-8 minutes on medium low. Stir in the broth and simmer for 10 minutes.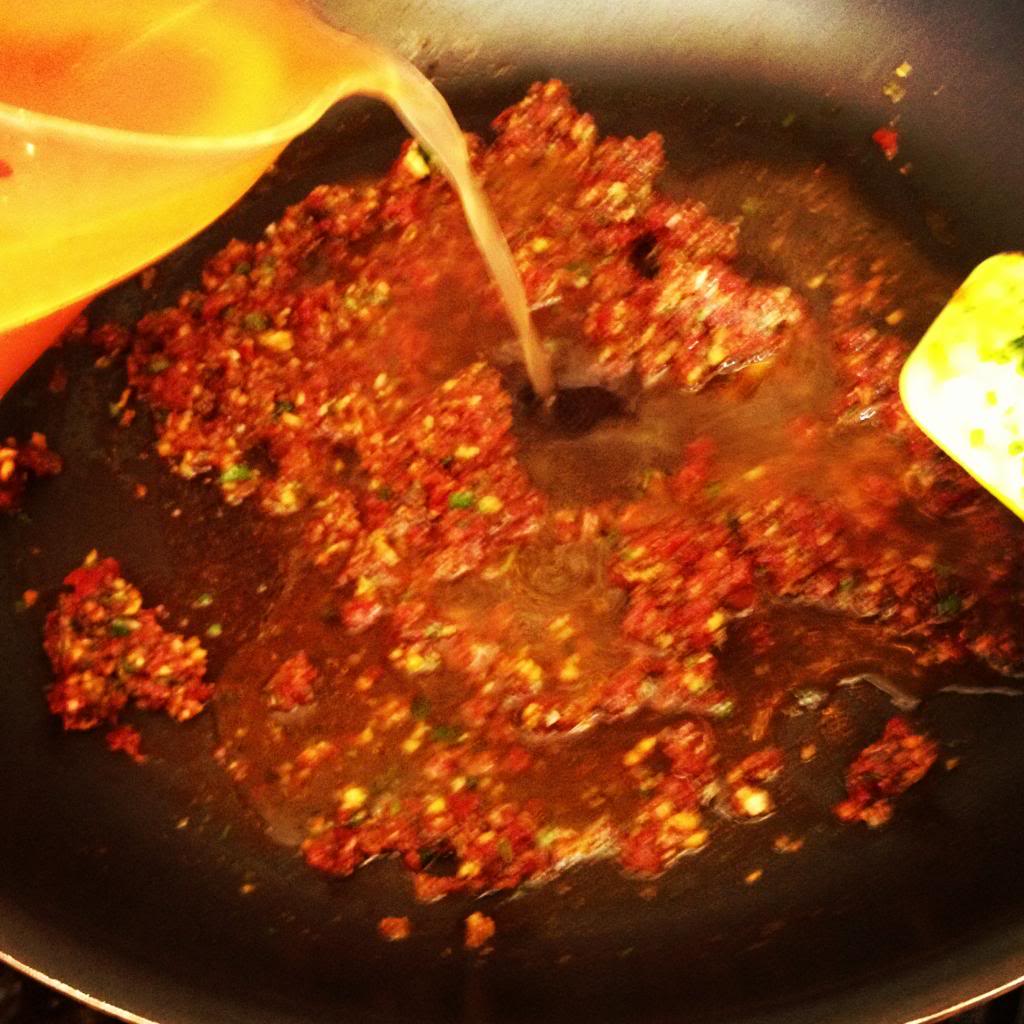 Toss the drained pasta in with the sauce then garnish with more fresh basil.
HAPPY EATING!!!
*this is my original recipe*