The funny thing about being a food blogger, you sort of have to "celebrate" holidays ahead of time. Take Valentines Day… well us food bloggers need get those romantic recipes out to all of you a week early so you have plenty of time to plan and prep. This means we get to celebrate a little early with the holiday eats. In no way am I complaining, it means I got to celebrate Thanksgiving and Christmas twice!
For Valentines Day I decided instead of me cooking twice that we'd go out a few days early and enjoy a lovely dinner out. I have to say, the one thing I miss the most since haven kids is going out to eat to try different restaurants. When we do go out on a date night, I enjoy myself very much!! We got a gift card for Christmas for a restaurant I'd never heard of, AMA Ristorante in Sea Bright NJ and figured lets go! I'd heard wonderful things about it and was so excited for dinner!!!
The restaurant is generally packed but we went on a Wednesday night, the day before a big snow storm… it was a quiet night and I enjoyed it! Granted it was dark so I couldn't see much, but it does overlook the ocean and no doubt its gorgeous over the summer. The restaurant is really beautiful! Dark wood floor, light brick pillars and the vaulted ceiling, WOW!!! Its really stunning!
Now the food because thats definitely the most important part!! Steve and I both thoroughly enjoyed the entire meal!!!
We started off with the Crispy Calamari served with arugula, heirloom cherry tomatoes and on the side sauce and a lemon crown. It was awesome!! The coating was light and crisp and those tomatoes were so sweet. A great start to the night!
Next up, the main course. For me, the Murrays Chicken Breast. A juicy airplane breast served over mascarpone polenta, baby artichoke broth, preserved lemon and carrots. I am not exaggerating when I say this was one of the best, if not thee best chicken dish I've ever had!!! If it were not frowned upon to lick your dish clean, well lets just say my dish would have been spotless!! The polenta was out of this world!!!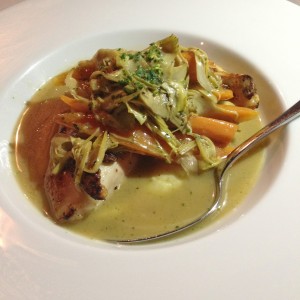 Hubby enjoyed the 14 oz NY Strip Steak with parmesan reggiano crust. The steak was served with sautéed spinach and roast potatoes. Of course I sampled his meal as well! It was cooked very nicely, the crust added a nice salty bite and had a great char to it and yes is was HUGE!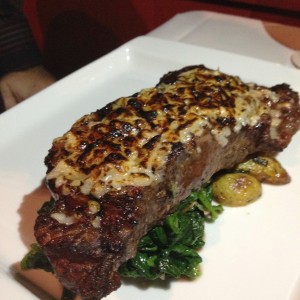 Now, you'd think we'd be far too full to eat another bite of anything but well, you'd be wrong! I may be slightly obsessed with my health/weight now that I've lost 30 lbs but I will NEVER deprive myself, especially on a special night!! So yes, dessert was had!!! A nice cup of coffee poured table side, a sampling of three types of biscotti and some pistachio gelato!!! Not a crumb of biscotti or a spoonful of ice cream was left! Perfect perfect ending to a wonderful meal!!!
So, YES… make reservations and get there to enjoy a seriously delicious meal!!
AMA Ristorante
Website: http://amaristorante.com
Facebook: https://www.facebook.com/amaristorantetuscana
Twitter: https://twitter.com/Amaristorante