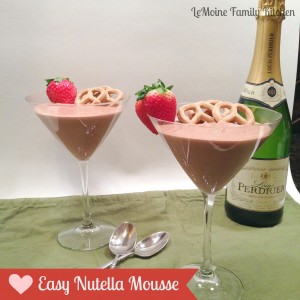 Good morning friends! Tomorrow is the day, Valentines Day and here we are at dessert!!! If you've been following along then you know I've got you covered! From a romantic breakfast with Honey Bunches French Toast & Strawberry Bellinis to your first dinner course Crepes with Whipped Ricotta & Portobellos and then your main course Lemon, White Wine & Herb Shrimp. After all that your loved one should definitely be impressed and have a very happy belly!
We're going to finish off your fabulous meal with this really Easy Nutella Mousse. 4 ingredients, no cooking, make ahead, silky smooth light and airy deliciousness!!! Whats not to love about Nutella; chocolate and hazelnut heaven. Whip up some Nutella with cream, vanilla and cinnamon and you end the meal with a bang!!! Served up in a martini glass and garnished with a strawberry and a few graham pretzels. Pour yourselves a glass of champagne, cuddle up on the couch and enjoy the evening!
The mousse should set in the fridge for at least 6 hours or overnight. This makes life that much easier so all you have to do before serving is garnish with the strawberry and graham pretzels or crumbles of graham crackers. 
Easy Nutella Mousse :: Valentines Dessert
Ingredients
1/2 cup Nutella
1 1/2 cups whipping cream
1 tsp vanilla extract
1/2 tsp cinnamon
Instructions
Place the Nutella in a small bowl and warm in the microwave at 10 second increments. Stir in-between warnings. It will take a total of 30-40 seconds to loosen the Nutella. Allow to cool slightly.
In a large bowl, add the whipping cream, vanilla and cinnamon. Whip with a hand mixer until soft peaks are formed. This will take several minutes on high. Don't go too far with it, it will taste like butter.
Add in the cooled Nutella and whip for another minute or two until well combined and again soft peaks have formed.
Pour into martini glasses, cover with plastic wrap and refrigerate for at least 6 hours or overnight.
Makes enough for 3-4 servings.
https://www.lemoinefamilykitchen.com/2014/02/easy-nutella-mousse-valentines-dessert/
I hope you all have a wonderful Valentines Day with the ones you love! Extra kisses & whispering sweet nothings goes way further then a box of chocolates… HAPPY EATS friends!!!