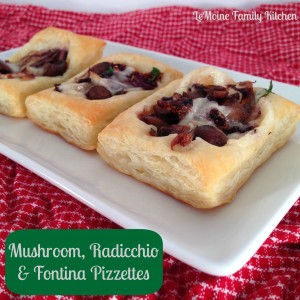 I have to say, I am loving making all of these New Years Eve inspired hors d'oeuvres! There is something so fun about eating with your fingers! These Mushroom, Radicchio & Fontina Pizzettes are amazing!!! With just a handful of ingredients and minimal prep, you can whip these up in no time! The earthy mushrooms, the mildly bitter bite of the radicchio and the perfectly melted fontina all on light airy puff pastry. Pizzette perfection!
In case you missed the first couple NYE picky food posts, be sure to check out my Slow Cooker Black Eyed Peas and Crostini with Whipped Ricotta & Artichoke Olive Tapenade. Both are easy to make, nice to look at and most importantly, delicious!
Mushroom, Radicchio & Fontina Pizzettes
Ingredients
1 box frozen puff pastry, defrosted in the fridge
2- 10 oz pkgs baby bella mushrooms, small dice
1 head of radicchio, quartered & thinly sliced
6 cloves garlic, grated
approx 2 cups shredded fontina cheese
a handful of chopped fresh parsley
1 Tbsp dried thyme
3 Tbsp olive oil
salt & pepper
Instructions
Preheat your oven to 350 degrees.
In a large saute pan, over medium high heat, add the olive oil, mushrooms, garlic and thyme. Cook the mushrooms until lightly golden and the garlic fragrant.
Add in the radicchio and season with salt and pepper. Cook until the radicchio is wilted. Stir in the chopped parsley.
Lay out the puff pastry on a piece of parchment paper. Cut each piece of pastry into 12 even pieces, giving you 24 pieces between the two pieces of pastry.
Place each pastry square onto a parchment lined baking sheet. Top with a spoonful of the mushroom and radicchio mixture and a sprinkle of the fontina cheese.
Bake for about 15 minutes or until puffed up and golden.