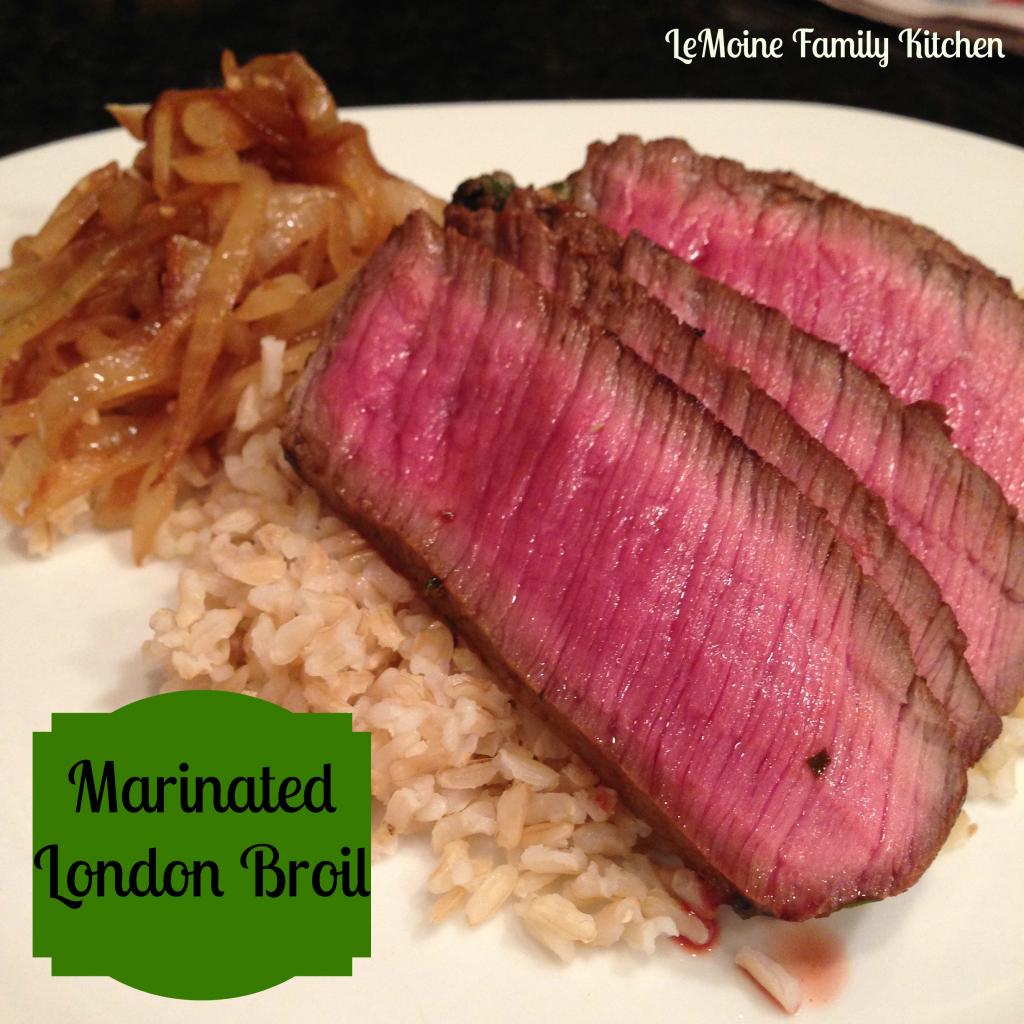 In my efforts to lead a healthier life day to day I've cut back big time on beef in our house. Every once in a while though I get in the mood for a nice piece of juicy steak and this Marinated London Broil hit the spot tonight!!! London Broil is a lean cut of meat which means if you cook it too long, it will become tough. This cut is definitely best on the medium rare side.
The marinade is simple but flavorful…. fresh garlic, parsley, soy sauce, sesame oil & rice vinegar makes for a great rich flavored piece of meat! I reserve 1/4 cup of the marinade on the side to drizzle over the meat when it comes time to serve. You can also serve the extra sauce on the side to dip into, either way its a delicious meal! I served mine with a side of sautéed onions and brown rice.
Marinated London Broil
3 lb London broil
1/2 cup soy sauce (low sodium if you can)
2 tsp sesame oil
1 Tbsp rice vinegar
8 cloves garlic
a couple handfuls of fresh parsley
pepperAdd the garlic and parsley to a food processor and pulse a few times to roughly chop the ingredients.
Add in some pepper, the soy sauce, sesame oil and rice vinegar. Blend until well combined.
Place the London broil into a baking dish. Reserve about a 1/4 cup of the marinade in the refrigerator. Pour the remaining marinade over the meat and refrigerate for 4-6 hours, no longer because the vinegar will start to "cook" the meat. I flip the meat a couple times during the marinading time.
You can grill or cook the meat in a large sauté pan over high heat. Cook about 4-5 minutes per side, depending on the thickness of the cut you may have to adjust. Allow to rest for 5-8 minutes before slicing. The key here is to slice the meat against the grain, in the opposite direction of the natural lines of the meat.
If you are not able to feel the doneness with a touch then go ahead and get yourself a meat thermometer. 130-135 degrees is medium rare. Keep in mind the temperature of the meat will rise a few degrees while resting.
HAPPY EATS!!!
*this is my original recipe*