There is so much great flavor in this Roasted Shrimp & Fried Polenta. Its easy to make and looks elegant. 
This Roasted Shrimp & Fried Polenta has got to be one of the tastiest simple meals I've made in a while! Shrimp cook up incredibly quickly, they are mellow in flavor so will take on seasoning very well. The shrimp are roasted in the oven then tossed with garlic, fresh parsley and lemon. The polenta slices they are served over were so easy to make and were seriously delicious!!!! My hubby, who is sometimes weird about textures, went back for seconds on the polenta! Served on the side, some simple steamed broccoli. This is a super healthy meal that lacks nothing!!! 
Roasted Shrimp & Fried Polenta
For the shrimp:
3 lbs shrimp, peeled, deveined, tails on
a big handful of fresh parsley leaves, chopped
3-4 cloves garlic, finely chopped
olive oil
salt & pepper
For the polenta:
32 oz low sodium vegetable broth
2 Tbsp garlic & herb seasoning (I use Tastefully Simple Garlic Garlic)
1 1/2 cups instant polenta
2 Tbsp butter
salt & pepper
Start with the polenta. Prepare a loaf pan by spraying it with a non stick spray.
In a saucepan, add the broth, garlic & herb seasoning, salt and pepper. Bring to a boil. Shut the heat and whisk in the polenta. Add the butter and continue to whisk until smooth and creamy.
Pour the polenta into the loaf pan smoothing out the top, allow to cool then cover with plastic and place in the fridge for at least an hour.
Once the polenta is set flip the pan over onto a lined baking sheet. Slice into approx 1 inch slices.
Now lets start the shrimp. Preheat the the oven to 425 degrees.
All the flavor for the shrimp comes from this right here… mix together the fresh parsley, garlic and lemon juice. Season with a little salt and pepper. Set aside.
Rinse and pat dry the shrimp well then place onto a parchment lined baking sheet. Drizzle lightly with olive oil, salt and pepper.
While the oven is warming you can start "frying" the polenta slices. Over medium heat, spray a large sauté pan with non stick spray. Place a few slices in and cook until golden brown on each side.
Once the oven is set, pop the shrimp in and roast from approx 8-10 minutes. Immediately toss with the parsley-garlic-lemon juice.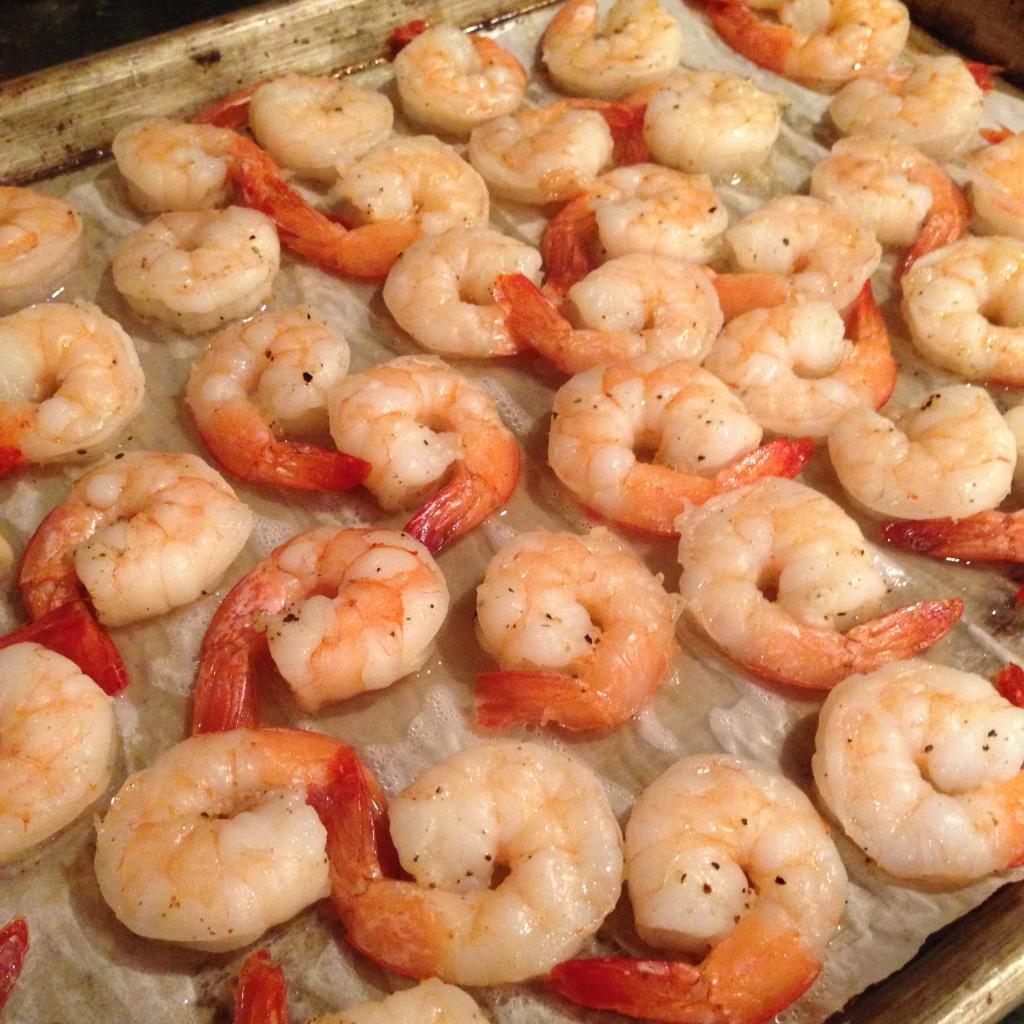 Serve the shrimp overtop the slices of "fried" polenta and enjoy!
HAPPY EATS!!!
*this is my original recipe*