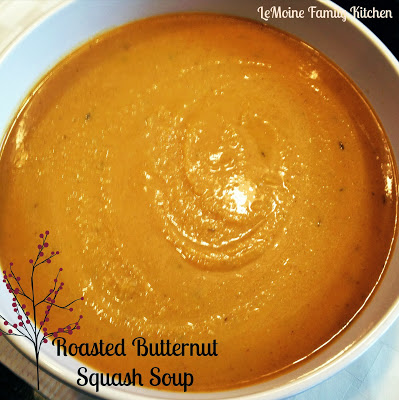 I'll be making my Roasted Butternut Squash & Apple Soup for Thanksgiving dinner to serve after antipasto, before dinner. Check out the original recipe post for step by step pictures.
This soup requires a short list of ingredients and the result is amazing! Taking the extra step to roast the squash is so worth it, the natural sugars develop and the flavor that develops is out of this world! The apples, onions and garlic are slowly sautéed with cinnamon, thyme, fresh nutmeg and a touch of sugar. Once all the flavors have melded they are blended to silky perfection and finished off with the oh so delectable marscapone cheese! This recipe is a keeper and fabulous enough to serve as an appetizer for the holidays!  You will wow your guests for sure!
Roasted Butternut Squash & Apple Soup
3- 3 1/2 lb butternut squash
1 large onion, diced
5 cloves garlic, sliced
3 granny smith apples, peeled, large dice
1 Tbsp butter
1 Tbsp olive oil
1 Tbsp sugar
1 tsp cinnamon
1 tsp thyme
1/4 tsp freshly grated nutmeg
3 1/2 cups vegetable stock
1/2 cup marscapone cheese
Oven at 375 degrees.
Cut the butternut squash in half lengthwise then in half. Remove seeds. Drizzle with olive oil, salt and pepper. Place the squash cut side down on a lined baking sheet.
Roast the squash for 25 minutes. Then flip the squash over so the cut side is up and roast for another 15 minutes.
While the squash is going we can start on the other components. In a large pot, over medium heat, add in the butter and olive oil. Add the apples, onions, garlic, sugar, thyme, cinnamon, nutmeg, salt and pepper. Stir to coat.
Cook for about 15 minutes, until softened. You are not looking for browning, you want the veggies and fruit to slowly cook and allow the natural sugar to develop.
Once cool enough to handle peel off the skin. Use a butter knife if it gets a bit stuck.
Add the squash to the pot and break up the pieces with a spoon or potato masher.
Add in the veggie stock and simmer for 10-15 minutes.
Using an immersion blender, carefully puree the soup until smooth. This will take several minutes. Stir in the marscapone cheese, once the cheese has melted go ahead and remove the pot from the heat. Taste for salt and pepper.