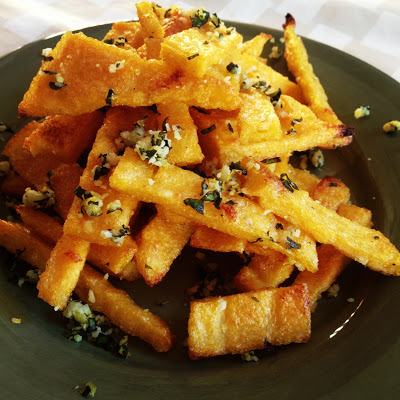 There are some fantastic healthy alternatives to some of our favorite not so healthy eats, fries being one of them. These "fries" are made of quick cooking polenta, baked in the oven until golden brown and then topped with the amazing flavors of pecorino romano, fresh basil, garlic and lemon zest. Its magic in the mouth with the crisp fries, the salty cheese, the slight "spice" of the garlic, the basil and the bright freshness of lemon zest, YUM. These are definitely making another appearance here soon! 
Baked Polenta Fries with Italian Herb & Cheese Topping
3/4 cup dry quick cooking polenta
3 cups vegetable broth
salt & pepper
olive oil
Topping:
1 clove garlic, grated
1 1/2 Tbsp grated pecorino romano cheese
6 basil leaves, finely chopped
zest of 1 lemon
Preheat the oven to 450 degrees. 
In a pot, over medium heat, add in the vegetable broth. Bring to a boil.
Slowly add the polenta in while constantly whisking to prevent clumps from forming. Continue whisking for 4 minutes. Remove from heat and stir in salt and pepper. 
Pour onto a parchment lined baking sheet and using a rubber spatula form into as close to a rectangle as possible. Be sure to keep the thickness uniform throughout. 
Place into the fridge for about 15-20 minutes to allow the polenta to set. Remove from the fridge and cut into "fries". Its not really a big deal on the size of each matching perfectly because the polenta is already cooked. 
Spread out over the baking sheet. Give a little spray of olive oil (organic if you can here) to the top of the fries.
 Bake for approx 25 minutes until lightly golden and crisp. I did half the time in the lower half of the oven and the other half at the top of the oven.
You can make the topping while the "fries" are baking. Simply stir the ingredients together in a bowl. When the polenta "fries" come out of the oven give a little drizzle of olive oil and toss with the cheese mixture. The olive oil is just to help it stick a little.
HAPPY EATS!!!