Last weekend the hubs and I took our first trip over to
Laurita Winery
in New Egypt, NJ for their Food Truck War Invitational. I am always down for pigging out at gourmet food trucks and there was no way I was missing this one! Yes, yes I know what about the clean eating… this was my huge cheat day and I enjoyed every minute of it! I even got to meet on of my very loyal readers Jill! It was my first time running into a LFK fan and Jill was so sweet!!!
The winery was beautiful and for a few hours I got to pretend I was back in Napa, enjoy good food, good wine and listen to some music. Heres a little bit about the winery… The property used to be a dairy farm and the proof is still there. Several buildings and structures from the farm remain and just adds a wonderful sense of history to the whole place. I have a soft spot for old things. Theres also an adorable antique shop on the site as well… I absolutely plan on picking up an old window pane next trip there and doing something crafty with it!
The main building is GORGEOUS!!! What we learned while on the winery tour was that the building was constructed partly of a structure from the dairy farm and the remainder from an old school and other repurposed materials. The environmentalist in me is extra excited about the fact that all the water needed for the site is provided by a natural spring on the property and all the electrical power is 100% provided by solar panels placed around the winery. Gotta love a self sustainable winery!!
The wine…. I think they said they produce 9 varieties of wine and do not use any grapes that are not grown on site. We did a tasting and got to try 6 of them! We ended up going with the Barcelona Red… it as slightly dry, a little fruity and a nice light red.
I know, I know… now the FOOD!!!! Some was amazing, some was decent and one was pretty disappointing. I 'll start with the best of the day!! It turned out that the best we had were the first two things we ate.
The Morris Truck is a phenomenal grilled cheese truck! Lets just say our grilled cheese was so good we said at the end of the day that we should have skipped a couple things and just eaten more grilled cheese hahaha! Heres what we had… The Jerk- Ale Cheddar, Shallots, Chicken Chorizo and Jerk Sauce! O.M.G!!!!! Mouth watering delicious!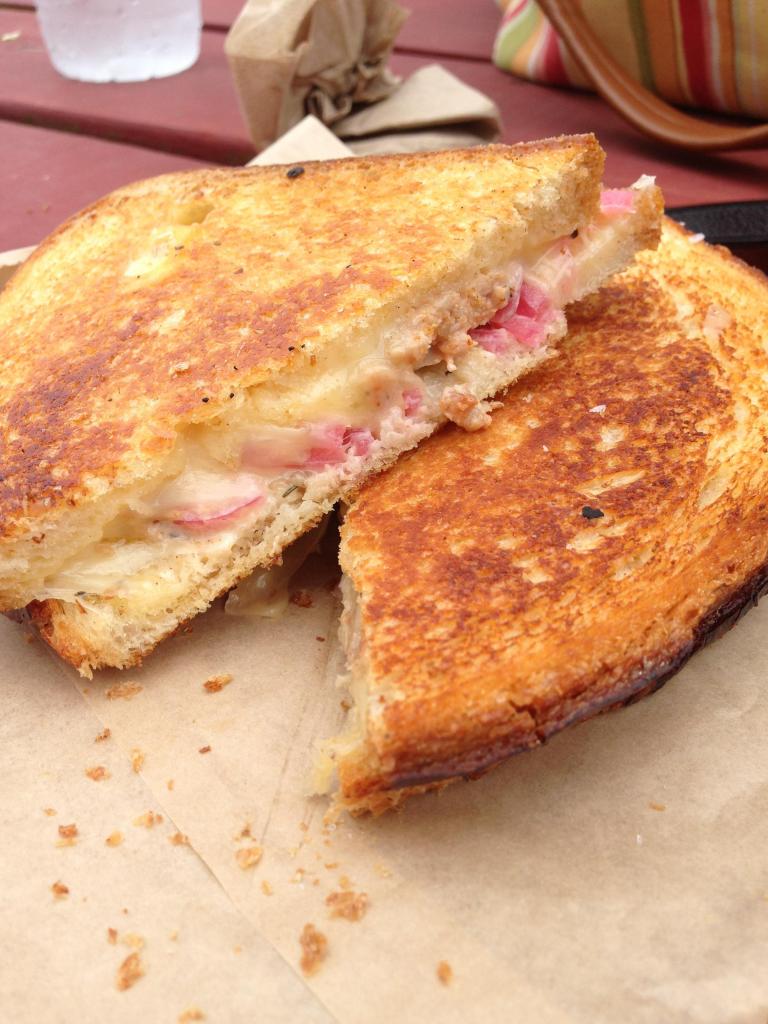 Next up…. Waffle De Lys!! Oh so yummy!!! A potato and cheese belgian waffle topped with pulled pork!!! The waffle was crisp on the outside soft on the inside, the pork had a great slightly smokey flavor and was delicious!!!
And because that wasn't enough heres what else we had…..
Empanadas from The Empanada Guy
Roast Pork & Rice from el Lechon de Negron… no idea what was in the sauce over top the pork but it was GOOD!
Then last and sadly pretty disappointing… the beef tenderloin sandwich from the in house caterer, Branches… heres the thing, I've heard great things about Branches but this sandwich was not worth the money… while the beef was tender there was just a small slice and all you tasted was the sweetness of the brioche…. My opinion, use a cheaper cut of steak and load it up, make the meat the star!
~should have had another grilled cheese~
I HIGHLY RECOMMEND CHECKING OUT LAURITA WINERY BECAUSE THEY ARE ALWAYS HOSTING AWESOME EVENTS! NEXT WEEKEND THEY ARE HAVING AN IRISH FESTIVAL!!! HERES THE INFO…
~maybe i'll run into you!~
Laurita Irish Festival Weekend
Saturday, August 24, 11:30-9:00pm
Sunday August 25, 11:30-7:00pm
Free Admission 
Whether you are Irish or just look good in green, come celebrate an Irish Festival Weekend at Laurita. Bring your family and friends for an exciting weekend of fantastic fun, toe-tapping Irish music, Irish artesian displays and wonderful memories that will last a lifetime.
Enjoy delicious Irish fair like Corned Beef and Cabbage from the Marketplace as we celebrate Irish tradition!