A few weeks ago I posted about my weight loss journey- zumba, cleaner eating and Advocare! At the time of the
post
I was just getting ready to start
Advocares 24 Day Challenge
… an incredible bundle of products that work with your body to cleanse of toxins (phase 1, 10 days), resetting your body for optimal weight loss and general wellness (phase 2, 14 days). First off, if you didn't read the original
post
go do that now to see how I got started.
Yesterday was the last day of my 24 day challenge and I couldn't wait to share my results with all of you! First, I have to thank you for the kind and encouraging comments on the original post and for your continued support with cleaner eating posts in the last few weeks. So, without further ado…. my results!!!!
The picture on the left is me in March 2013, before I began my journey using Advocare products. The picture on the right is my first day of the 24 day challenge. At this point I was down 16 lbs in just 3 months!!!
*****
And this is this morning!!!!!!
So heres the stats from my 24 day challenge!! 
Weight loss: 7.6 lbs (total lost since starting in March: 24 lbs!)
Inches lost: 7 inches
Down from a size 8 pre 24DC to a size 6 post 24DC
*******
So here is the side by side! From 164 lbs in March to 140 lbs now!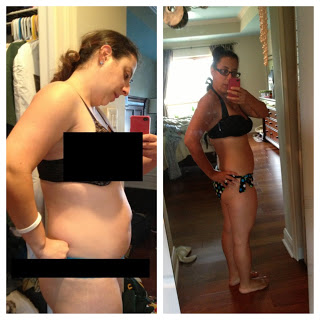 I cannot even express how happy and healthy I feel right now!!!! Besides the incredible weight loss and inches lost… I don't feel sluggish anymore, I have no desire to snack (except the occasional popcorn during a movie-though I do sneak in organic popcorn into the theater), I'm seeing more definition in my stomach, arms and legs, more energy… just overall like a different person. The weight loss is fantastic but really I am beyond thrilled that I am healthier on the inside as well!
I'm so thankful that my friend introduced me to these amazing products that work with your body so that things work efficiently and help reach your goals… whether its weight loss, toning, strength or general wellness, Advocare has it covered!!! I'm really enjoying being able to help others reach their goals so please contact me if you are interested in learning more!
a.lemoine@me.com