My grandparents have always been in the kitchen, its where it all started for me as a kid. Cooking in the kitchen on holidays with my mom and grandparents was tradition. Mine and my brothers job was making the antipasto platter at Thanksgiving, at Christmas we helped roll out the gigi (Struffoli-honey balls). My love for food and cooking for friends and family certainly started in the family kitchen and my hope is to pass that on to my boys.
There is something special about being in the kitchen with a grandmother. Sure, sometimes its stressful, like Grandma not being happy that I didn't have the brand of fruit pectin that she buys… and yes she let me know of her concern numerous times before we even got started. Being as I refused to go to the store to get the other brand we got on with our jam making and I will say that jam came out delicious!!! I ignored the directions on the jar of fruit pectin and just followed along with whatever Grandma said, because like she said, shes' never thrown away anything shes' jarred.
*little disclaimer: as far as canning safety goes, the method we used here isn't lets say "per code" when it comes to jarring but its worked for Grandma for mannnyyyy years so i'm going with it. If you are at all concerned, check out the
Ball Mason Jar
site for their method*
Homemade Strawberry Jam
makes approx 3 half pint jars
4 cups prepared strawberries *see below- approx 3 lbs
3 Tbsp fresh lemon juice
4 1/2 Tbsp Ball Classic Pectin
5 cups granulated sugar
First you have to prepare and sterilize the mason jars. Place the jars and lids into a large pot of water, bring to a slow boil and keep them in there for about 10 minutes. Shut the heat but leave the jars in the pot of water. (We weren't sure how many jars we'd need so we sterilized too many)
Wash the remove the greens from the strawberries and cut into quarters. In small batches give the berries a slight puree in a blender or food processor, meaning leave some small chunks in there. Place in a bowl as you continue. You want to end with 4 cups of the prepared strawberry-rough puree.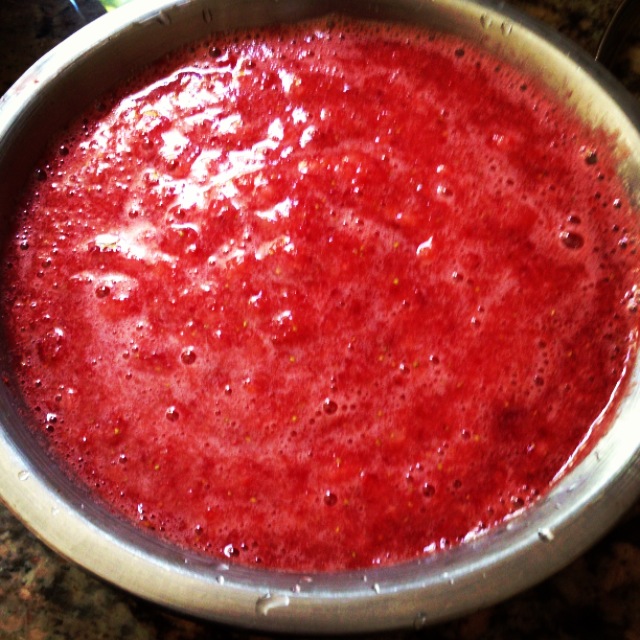 Add the 4 cups of strawberry puree, the sugar and the lemon to a large pot. Bring to a rolling boil, stirring very frequently. Begin to skim off some of the foam that forms on the top. Allow to boil hard for about 10 minutes.
Shut the heat and stir in the pectin until completely dissolved, being sure to break up any chunks of pectin that may form. Heat back on, bring it back up to a rolling boil for about 5 minutes, stirring very frequently. Shut heat so you  can begin jarring immediately….
Now using tongs, very carefully remove one jar and the lid parts from the hot pot of water. Immediately fill the jars, leaving just a 1/2″ space at the top, place the lid on and tighten as much as you can. Place the jar upside down on a kitchen towel. Repeat this step until all the jam is jarred. If you have a little extra place it into a jar the same way and start using it the next day. The reason for taking the jars out one at a time is to ensure everything is hot hot hot.
Once the jam and jars have cooled completely you can flip them over. If the disk part of the lid is firmly down, meaning if you push on it there is no give, then they are sealed properly. These can then be stored in a cool dark place for, according to grandma, several years.
HAPPY EATS!!!!