Oh the wonderfulness of pasta. This dish is is made with whole grain fusilli, sautéed asparagus and a simple sun dried tomato pesto. I absolutely love making spreads or pestos to add a huge punch of flavors to sandwiches, pastas, sautéed shrimp or grilled chicken. To make a complete meal out of this I served it with a chicken breast. This pasta is perfect served cold or hot, I'll be making something super similar for the boys birthday party this weekend as a cold pasta salad.
Fusilli with Asparagus & Sun Dried Tomato Pesto 
1/2 lb dry fusilli, cooked to al dente
2 garlic cloves
small handful parsley
2 Tbsp marinating liquid from tomatoes
For the asparagus, remove about an inch off the end and discard. Cut the spears into thirds. In a large sauté pan over medium heat, add a drizzle of olive oil and the asparagus. Season with a little salt and pepper. Cook until tender.
1/4 cup pasta cooking water reserved
1 bunch asparagus
6 halves marinated sun dried tomatoes
olive oil
salt & pepper
While the asparagus is cooking you can make the sun dried tomato pesto. This is the same one I made to use on a
Turkey, Baby Spinach & Sun Dried Tomato Panini
. Add the sun dried tomatoes, garlic, parsley, parsley, the marinade liquid and salt & pepper to a food processor. Pulse until the consistency of your preference, I left mine just slightly chunkier.
Into a bowl toss the cooked pasta, the sautéed asparagus and the sun dried tomato pesto. If it seems a little dry, add in a little bit of the pasta water at a time until it is the moistness of your preference.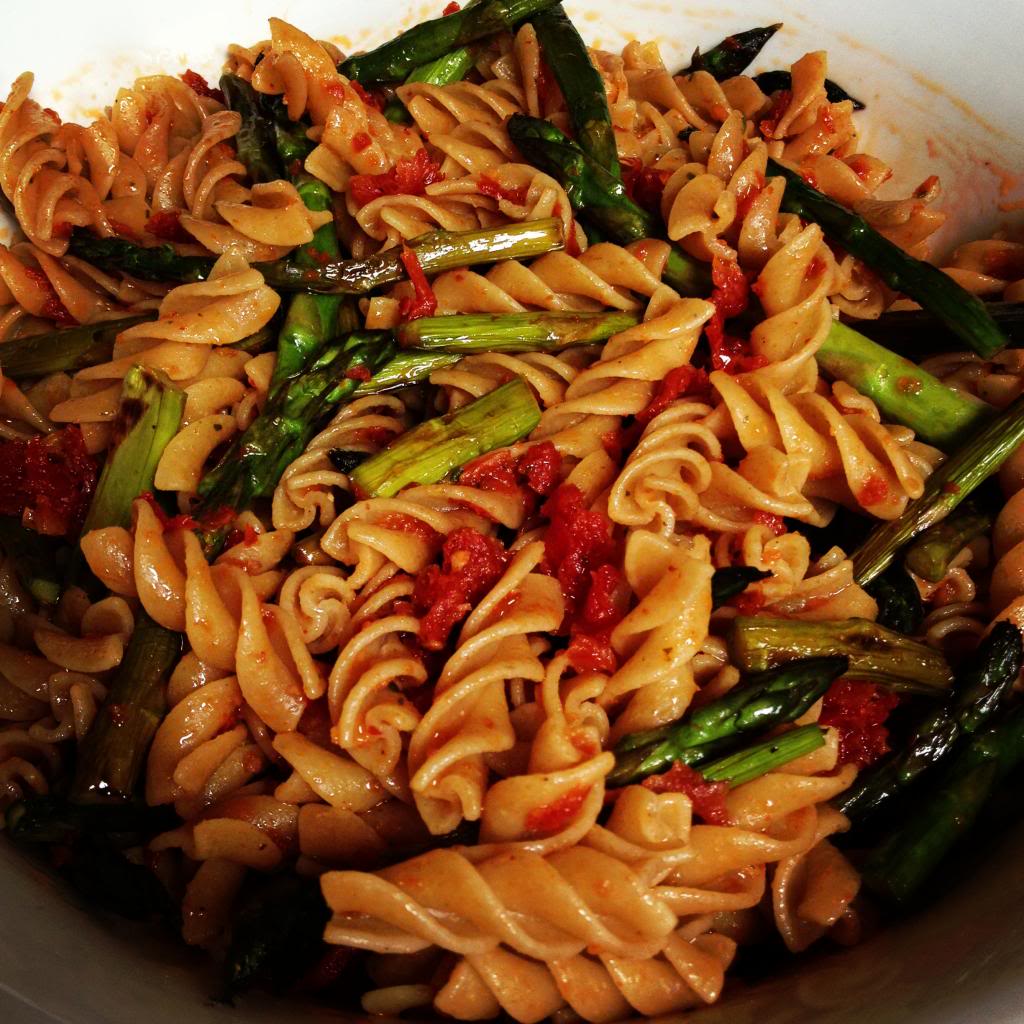 HAPPY EATS!!!!
*this is my original recipe*