First, can I just say, I am loving this spring weather!!! Sitting out on the deck watching Jack run in circles while I blog… perfect! Back to the food… I absolutely love the combo of pasta and chili! Whenever I make a big pot of chili, I serve it over spaghetti, its fabulous!!!!  Figured I'd kick things up a bit and add the element of cheesy goodness to it and make a big thing of chili mac & cheese!!! I lightened things up a tad by using ground turkey instead of beef and veggie broth in place of milk for the cheese sauce. This chili recipe is relatively "mild", if you want to kick it up just add a tsp of cayenne pepper! This Turkey Chili Mac & Cheese is a great meal!!!
Turkey Chili Mac & Cheese
serves 6-8
1 lb whole grain pasta, cooked to very al dente (see box)
10 oz ground turkey
1 yellow onion, small dice
1 red bell pepper, small dice
1- 4oz can green chilies, small dice
3 T chili powder
2 tsp garlic powder
2 tsp ground cumin (less if you aren't a fan)
2 tsp oregano
1- 15 oz can black beans, rinsed and drained
1- 28 oz can fire roasted tomatoes, pureed
(Muir Glen is the only brand i've seen with this variety, so good)
for the sauce:
2 Tbsp butter
2 Tbsp flour
2 cups veggie broth, slightly warmed
3 cups shredded cheddar cheese
Start by making the chili so it has some time to cook.  In a large pot, over medium heat, add a few drizzles of olive oil. Add in the onion, red bells and chilies. Cook until softened a bit.
Stir in the chili powder, garlic powder, cumin, oregano, salt and pepper. Cook for a few minutes allowing the spices to come to life a bit.
Add the ground turkey and break up the meat as it begins to cook. Stir in the tomato and black beans. Simmer on medium low for 1-2 hours. The longer it cooks the more the flavors will deepen.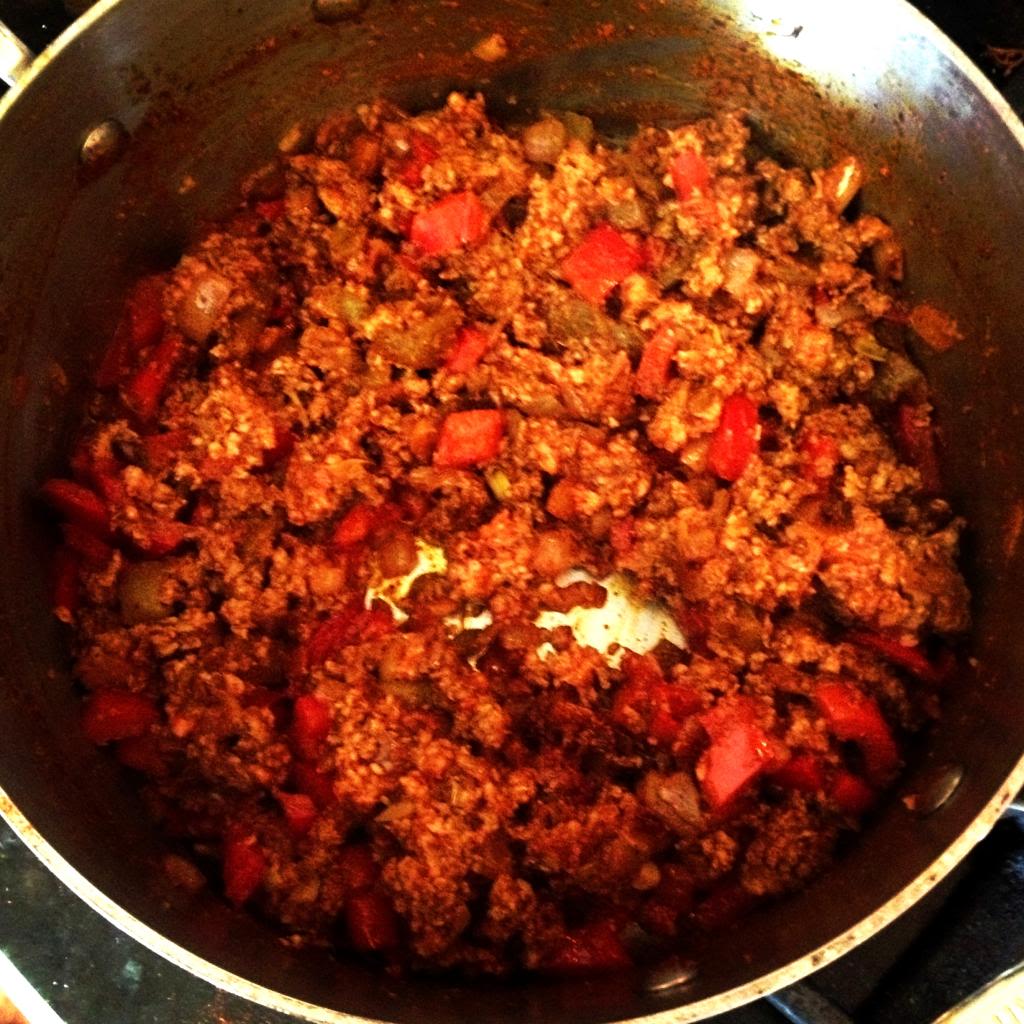 A note on the cheese sauce, don't make it far ahead of time, it will get thick as it sits and is much easier to stir in when still warm.
In a pot, over medium heat, add the butter. Once melted stir in the flour until combined. Cook for just a minute to get the raw taste out of the flour.
Whisk in the broth until well combined, season with salt and pepper. Simmer for approx 8-10 minutes until slightly thickened. Turn off the heat and stir in the cheese.
Now you've got your partially cooked pasta, fab turkey chili and that gooey cheese sauce. Toss everything together in a bowl until well combined. Pour into a baking dish and bake at 375 degrees for approx 15-18 minutes until bubbly. *if you want it even cheesier, top the mac & cheese with more shredded cheese before baking*
While making our dinner, we of course had to make a kid friendly mac & cheese…. Turkey, broccoli and cauliflower mac & cheese! Jack was a big help in the kitchen!
HAPPY EATS!!!!
*this is my original recipe*