For months now an awesome company,
Pastamore
 (as in pasta love) and I have been following each other on Twitter. 
Pastamore
has a HUGE variety of gourmet pastas, tapenades, olives oils, vinegars, marinades, BBQ sauces and gluten free items! A little background… they started out about 16 years ago by participating in farmers markets in Colorado. They value quality products, their relationships within the community. The part I love, is that they work with the Food Bank of the Rockies, working to help feed the hungry and less fortunate! How fantastic is that?!?!?!
They have been so kind to LeMoine Family Kitchen, frequently retweeting my posts. I approached them several weeks ago first thanking them for the support then to see if they'd be interested in participating in a product review. I was thrilled when I heard back from them saying yes and that I could pick any item to try!!!! I chose Pastamores'
Kentucky Bourbon Marinade & Grill Sauce
since summer is just around the corner!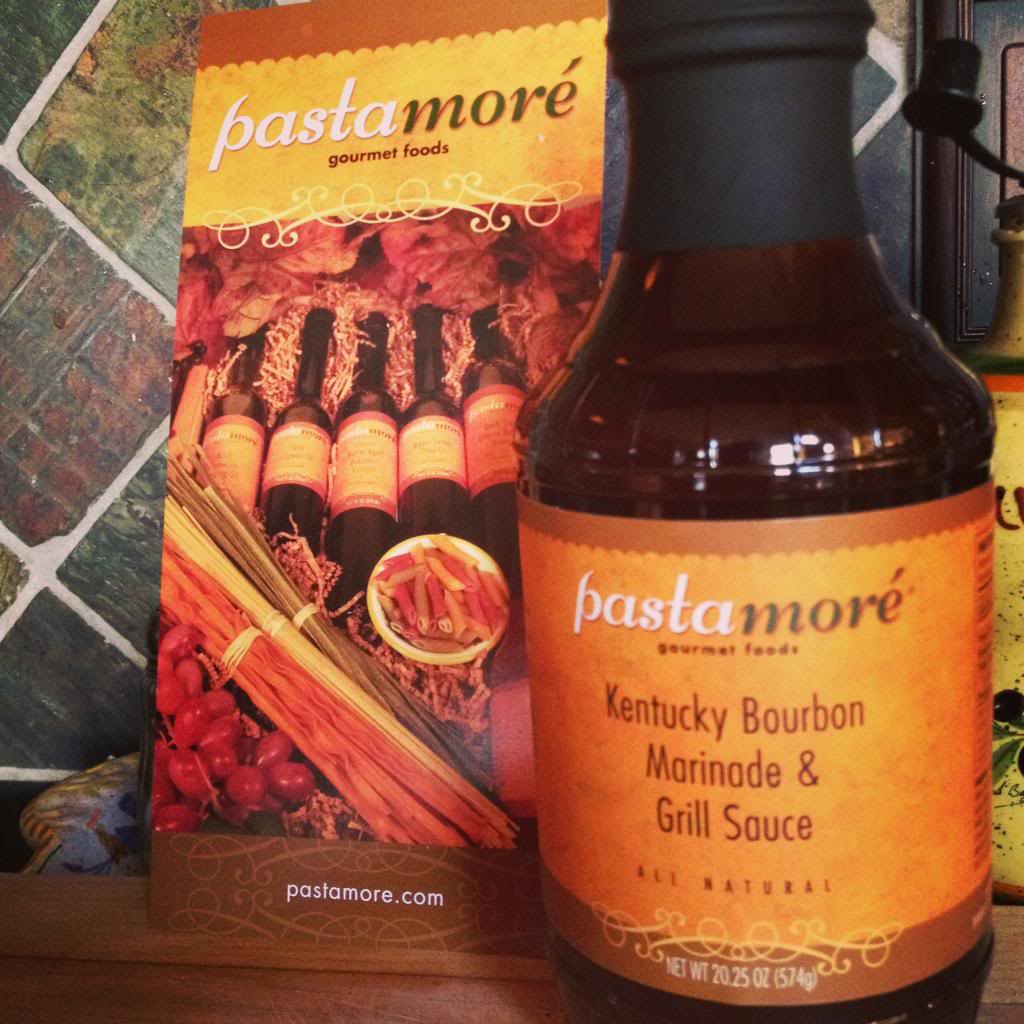 I have lots of uses for this amazing sauce and will share as I make them! Just a tease on one…. Turkey bacon wrapped BBQ chicken! Oh yes!
I encourage you to check out their site and all their wonderful products!!! Pastamore has been so generous and are offering my fabulous readers a special discount code!!!! Simply enter "LFK2013" to receive 15% off your purchase, valid until June 30th!!!!!
*****
Now onto that fantastic burger!!!! I absolutely love a good BBQ burger so thats what I decided to go with for my first use of Pastamores' Kentucky Bourbon Sauce. In an effort to make it a bit healthier then a typical burger, I used lean ground turkey and whole grain sandwich thins (my new obsession). I simply season the meat with salt, pepper and garlic powder; allowing the BBQ sauce to flavor the burger. This sauce adds a really unique full bodied flavor that is so different then any BBQ sauce i've ever had! Love it!!! This burger is topped with sautéed onions and cheddar then pressed on the panini press. Absolutely delicious!
Pressed BBQ Turkey Burger 
makes 3 burgers
20 oz lean ground turkey
Pastamore Kentucky Bourbon Sauce
2 red onions, sliced thin
shredded cheddar
sandwich thins
garlic powder
salt and pepper
Add a few drizzles of olive oil to a sauté pan over medium low heat. Add the onions and cook until golden.
Place the turkey into a bowl and season with garlic powder, salt and pepper. Form into 3 even sized patties.
Brush the BBQ sauce on the patties. Cook for a few minutes on each side on a very hot grill. Do not worry about them being cooked all the way through, they will continue to cook in the next step.
Remove from the grill for assembly. Place some cheddar on the bottom half of the sandwich thin. Place the burger on top. Top with the onions and more cheddar then the top of the thin.
Place onto a hot panini press until the cheese is melted, bread a little crisp and the burger cooked through. Yummy goodness right there!!!
HAPPY EATS!!!
*I did not receive any monetary compensation for this review. The review is of my honest opinion formed after consuming the product*