In our house we love to do "themed" nights… BBQ, Chinese, Italian (well thats most nights), Burgers… and of course one of my favorites Mexican!! When you think of a Mexican meal you don't generally think of it as a light meal, but I lightened up taco night with this one- Mexican Lettuce Wraps & Spanish Rice!
Instead of ground beef I used lean ground turkey, instead of flour tortillas I used iceberg lettuce leaves. The hubs admitted afterwards that he was a little nervous when he didn't see the tortillas but he liked it with the lettuce. The lettuce adds great crunch and a whole lot less calories! I set up toppings like olives, salsa, shredded cheddar and diced avocado in little bowls so everyone could make their own Mexican lettuce wrap.
I made a Spanish style rice using brown rice. The rice is flavored with tomato paste, peas, carrots and manzanilla olives (the green ones with the pimento inside). This is really easy to make and a great side dish our Mexican Lettuce Wraps! The rice takes longer to make so start with that. As the rice is cooking  and the "sauce" for it is started, you can then go ahead and get the turkey going.
20 oz lean ground turkey
4 cloves garlic, sliced
1/2 onion, diced
3 Tbsp water
3 1/2 Tbsp taco seasoning (see below)
olive oil
1 head of iceberg lettuce, leaves carefully removed
Taco Seasoning
*adapted from Alton Browns Taco Potion*
2 Tbsp chili powder
1 Tbsp cumin
1 1/2 tsp paprika
1 1/2 tsp oregano
2 tsp cornstarch
2 tsp salt
To make the taco seasoning, stir all the ingredients in a bowl until well combined.
Into a large pan, over medium heat, add a few drizzles of olive oil, the garlic and onions. Cook until softened.  Stir in the 3 1/2 Tbsp of taco seasoning just to combine.
Lower the heat to medium low. Add in the water and ground turkey and use a potato masher to break up the turkey. Stir occasionally to coat the turkey with the seasoning. Cook through completely.
Place your meat into a bowl along with your toppings. Have some fun and assemble!
*****
Spanish Rice
2 cups dry brown rice
1 1/2 cups water
4 Tbsp tomato paste
2 cups mixed frozen peas and carrots
1 1/2 cups chopped manzanilla olives
2 tsp oregano
pepper
Boil the the rice until cooked through. Drain and return to the pot.
In a large pan, over medium heat, add the water, tomato paste and a bit of pepper (i don't season with salt because in my opinion the olives add enough but you can certainly taste test at the end). Stir until the tomato paste has blended completely.
Stir in the peas & carrots, olives and oregano.  Simmer on low for 5-6 minutes.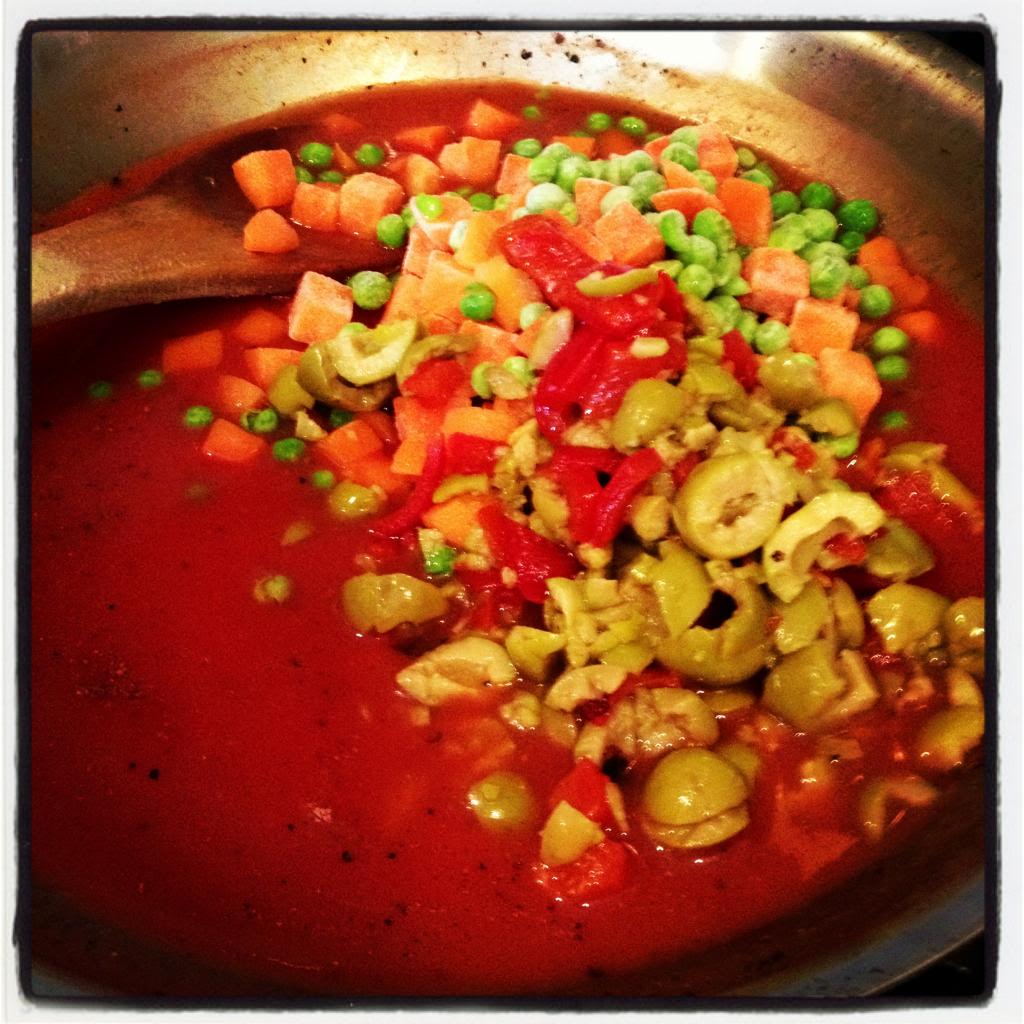 Stir the rice into the pan and toss to coat the rice well. Season with salt and pepper to your liking.
HAPPY EATS!!!
*this is my original recipe*