I thought it might be fun to give you all a little peek into my kitchen… clutter corner & all! I want to share with you some of my favorite gadgets, pots, platters, bakeware, all of it! Soon after starting this blog I had done a post on my Pinterest inspired dream kitchen… this is not quite it but it works. Hope you enjoy my kitchen in pictures!
*leave lots of comments telling me what your favorite, can't live without gadgets or gizmos are*
I admit, I have a lot of gadgets and it would be a really long post if I showed you everything… so these are some of the things I can't live without & a little peek at how my kitchen looks….
~~~~~~~
Here ya go… this is my kitchen… where I prepare breakfast, lunch and dinner daily… cook up Christmas Day dinner, where we sing Happy Birthday, where I bake with the kids, where we make a mess daily, where we surprised our families with the announcement that I was preggo with our first… where the magic for LeMoine Family Kitchen happens!! Its not perfect but it works!
My Boos Block… this was a Christmas gift from my brother several years back and I love this thing! Nice and huge so I can make piles of chopped up veggies and its nice and sturdy, never worry about this bad boy bowing.

Oh Le Crueset Dutch Oven how I love thee! By far my favorite pot… perfect for sauces, stews, soups, chili, baking bread and more! This thing heats nice and evenly and is durable as can be!
I use my Immersion blender set pretty often, these are the two pieces I use most frequently.The mini processor is great for small batch items like making salad dressing or chopping garlic finely. The wand is great for pureeing soups, sauces, cauliflower and more! Another gadget I bring out a lot is my food processor. Perfect for bean dips, pestos, making breadcrumbs, shredded veggies with the attachment… love it!
This Griddler is fantastic! Inserts for a flat top perfect for pancakes and the grill inserts for paninis, grilled veggies and meats. The bonus, the inserts can go straight into the dishwasher!
Now… I have a LOT of cooking utensils! Yes a drawer just for tongs/ice cream scoops then a big drawer for the rest. You can never have too many spoons, spatulas or tongs!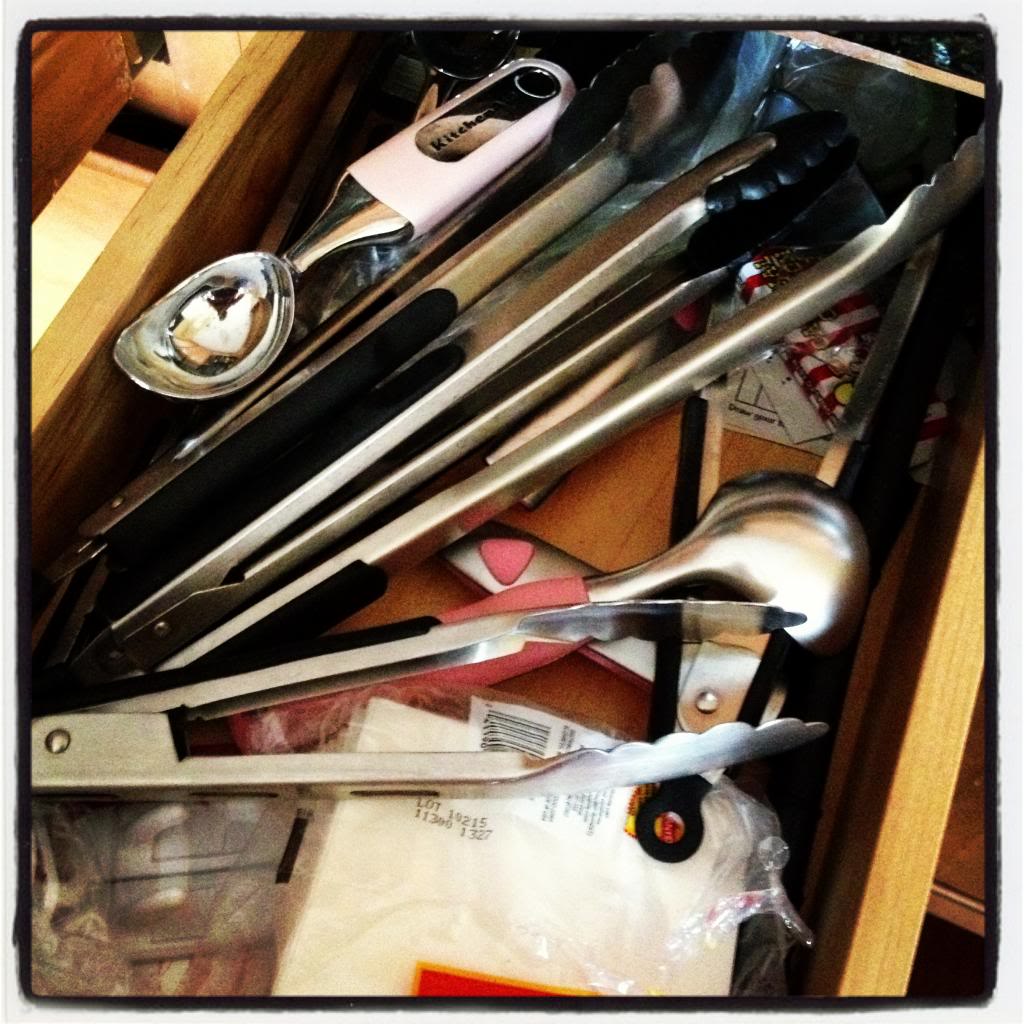 Everyday white dishes are kept on this dish rack in my dining room. Its simple but I like it.
The double oven… now that I have it I seriously couldn't do with just one oven! I have no idea how I would cook for 20 something people for holidays and parties. I also have an extra fridge in the garage to help out with the big gatherings (now its acting as a beer fridge).
In my dining room I have two end tables with storage underneath that I use for platters/serveware and the other for baking pans. I have a LOT of platters so there is also a shelving thing in the basement with more platters.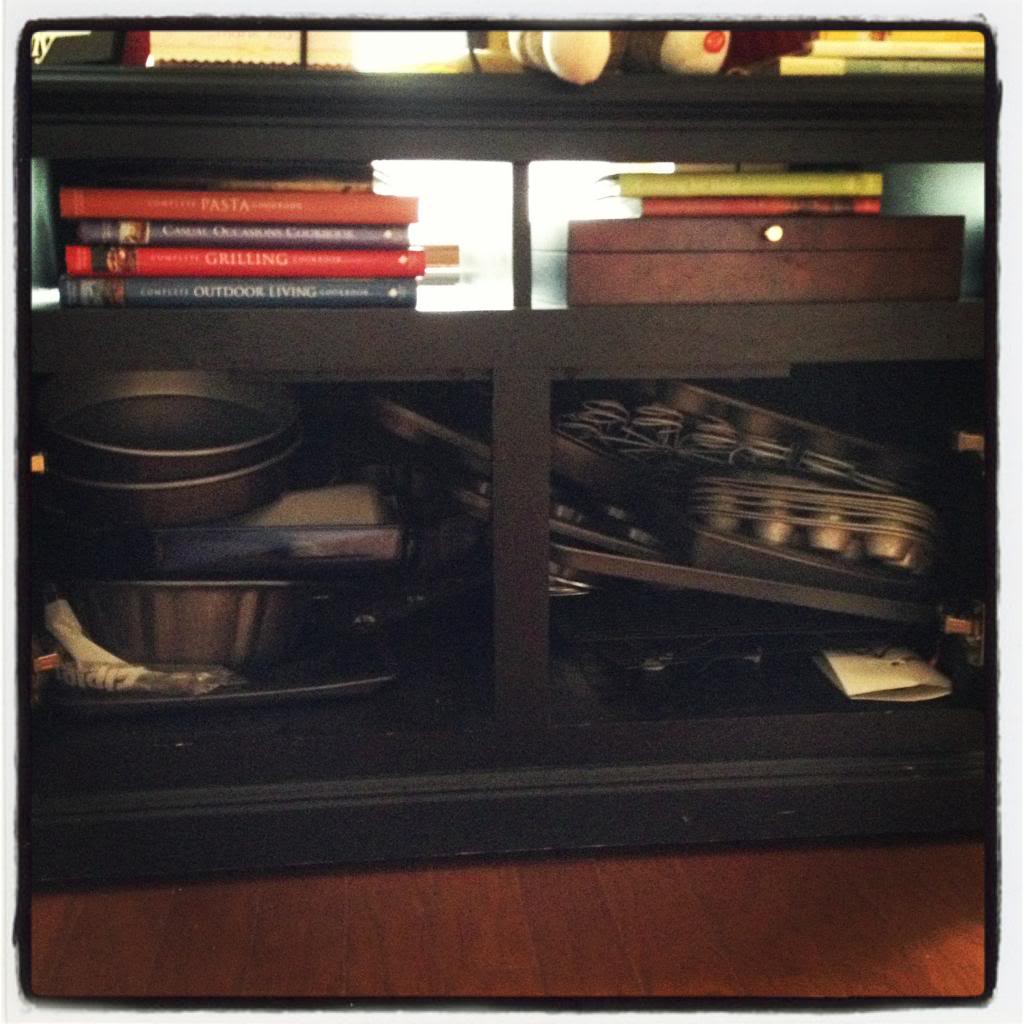 Then there are the pots and pans and I have a lot of those as well. Two nice sized drawers filled with one set I got back in college the other is an all clad set I won from a Food Network Contest way back when. I use all of it (and actually there are several in the dishwasher)! And yes I realize it isn't very neat but I'm just happy they are put away haha!
This next one was a trick of Uncle Sams, ya know we can't just keep an ugly bottle of dish soap on the counter… so instead use an oil dispenser! I have a clear one but you can find them in so many different colors, patterns and shapes so go ahead and have fun with it! Oh, and this was way before Pinterest was around!
One of my favorite things about my kitchen, aside from the gadgets is our backsplash. When we moved in there were simple tan colored tiles which was better then no backsplash but we dolled things up a bit… well really my hubby and father in law did most of the work. I love the slate, the colors are amazing and then gold accent squares & dividing decorative line (whatever you call that) add a perfect little pop! Well worth the work!
Now, I'm going to keep it real here and even show you the clutter corner, eek! Its pretty bad and I swear as soon as I clear it up a bit the next day there is new clutter. Maybe one of these days i'll figure it out.  So for now its fresh bread, corn muffins, cereal bars, tortilla wraps and bowl of valentines day candy.
I'll end it with a piece I am in love with it! Again, this one is thanks to Uncle Sam. It is actually supposed to be a bookcase but thanks to Sams brilliant eye it is our dining room hutch. In there are about 9 or 10 cake stands of various sizes, all the pretty Lenox stuff we got for the wedding but literally use maybe twice a year, some cookbooks, a few art projects by the kids, some fun stuff from Home Goods and a handful of very meaningful cards that I will not part with.
So there ya have it… my kitchen in pictures! Its not my dream kitchen but it works and there have been lots of fun memories made in this kitchen… one day, perhaps after hitting the lottery, I will get one of these kitchens…