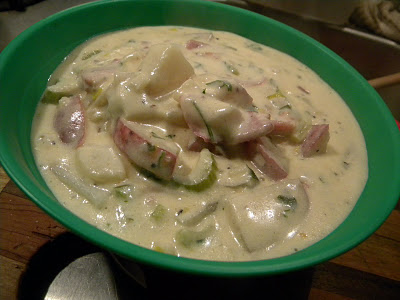 I've got quite the treat for you today!!! Laurrie from Baked Lava is here sharing this incredible Clam Chowder recipe with us!  The full recipe and directions is just past all the fabulous photos. 
My name is Laurrie Piland and I write the
Baked Lava
blog along with being an avid nature photographer, food photographer out of necessity, newspaper columnist and a recycled container gardener. I live with my husband (of 7 years!!!), my 2 big dogs and 2 cats full-time in a 21-foot fifth wheel right across the road from the Columbia River and in the shadow of Mt. St. Helens in SW Washington state.
I am currently cooking my way around the world. My blog readers choose which country they would like to see from week to week, so I never know what's coming at me, I  plan and cook an entire meal on a budget of $20 or less per country and I do it all in my tiny little RV galley/kitchen with an oven that I refer to as my "Easy Bake oven on steroids".
I am the administrator of a very active Facebook cooking group  and we are over 100 members and going strong. I also have a
Facebook page
that goes along with my blog called Baked Lava. I am a singer/songwriter, although, I'm a bit rusty and it's been quite a while. I always have a musical instrument of some type hanging around for when I have a minute to pick it up. I love classic rock and my husband and I met over a Marshall Tucker Band song playing on the jukebox. I have a talent for creating original recipes using ingredients that we know and love in the Pacific Northwest and have had several of my recipes published on a top-rated recipe website. I am a "from scratch" cook and I'm super motivated to teach myself new techniques in the kitchen. I'm am always on the go and a lot of my friends do not understand where I find the time to fit all that I do into a 24-hour period, but I never plan anything and everything happens for a reason and it just seems to work out somehow.
My motto is PEACE!
This is what a razor clam looks like when it's cleaned. These are my absolute most favorite food in the whole world…I just love them!
My recipe includes an entire 8 ounce brick of cream cheese. This makes the chowder incredibly rich.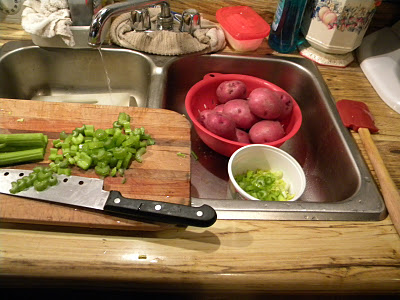 The supporting members of the recipe: red potatoes and celery along with…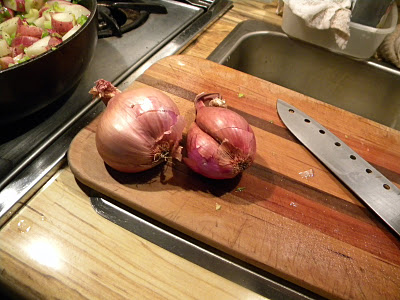 shallots. You can use onions, if you can't find shallots…hell, you could even use leeks and that would be super tasty, too. This recipe is just a guideline!
I have a problem with ordering clam chowder in most restaurants because they use a base. They don't use fresh thyme and that, my friends, is what makes a good chowder into an over-the-top chowder…fresh thyme! I'm lucky…I grow it year round in my container garden.
I put all the milk-y stuff into a pot and I give the potatoes, celery, shallots and garlic a good head-start by cooking them almost all the way with bacon that has rendered down. Any chowder worth it's salt has bacon in it.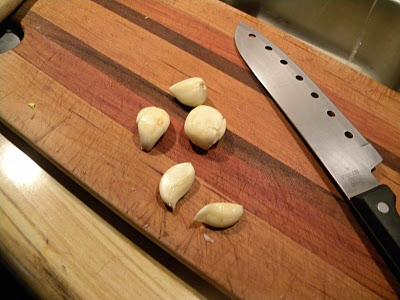 I use about 5 cloves of garlic…I really dig garlic. If you don't like it, don't use it or use less of it…
Once the potatoes have cooked almost all the way through, add them into the milk-y mixture. I also like a bit of spice. Since I wasn't cooking for neighbor Ralph (he has gout and can't eat clams…poor guy), I spiced it up a bit.
I like to thicken mine with instant potato flakes…they thicken but don't add any flavor that isn't already in there.
Rich, creamy, thick razor clam chowder…there's nothing better on a cold, rainy day!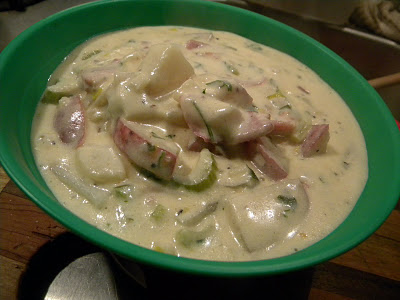 1 limit (about 15) razor clams, chopped, save the juice
6-8 small red potatoes, chopped into bite size pieces
1/2 pound applewood smoked bacon
2-3 shallots, chopped
5 stalks of celery, with the leaves, chopped
4-5 cloves garlic, minced
1 (8 ounce) block cream cheese
5 cups whole milk
1/2 pint heavy cream (optional)
2-3 teaspoons fresh thyme leaves
1/4 cup chopped fresh flat-leaf parsley
1/4 cup butter
2-4 tablespoons instant potato flakes
2-3 dashes Tabasco sauce
1/4 teaspoon crushed red pepper flakes
Sea salt & coarse ground black pepper, to taste
Combine milk, cream cheese, butter and heavy cream (if using) in a large pot.
In a skillet, render the bacon and cook the potatoes, celery, shallot and garlic in the bacon drippings until potato is almost tender.
Add potato stuff to milk stuff and the rest of the ingredients except instant potato flakes.
Cook over LOW heat until potatoes are completely tender.
Thicken with instant potato flakes, using 1 tablespoon at a time until it reaches desired consistency…I like mine to coat the back of a wooden spoon.