For quite some time I've wanted to give a meatless burger a try. There really wasn't anything appealing about the frozen varieties and really I was skeptical about the whole idea of it. That was until I saw a yummy looking pic on Pinterest of a meatless burger and thought, I need to give this a go. The hubby was not so excited when he saw I posted something on the blog
FB page
about giving it a try this week. Can I just tell you, I sat and watched as he took that first bite and right there I knew I had proved him wrong, he really liked it!!!
So heres how I came up with this recipe… I knew I had lentils and black beans on hand so figured that would be my base. Then something to sweeten it up I had a red bell pepper and carrot. Its very simply seasoned, cooked up in a pan with minimal oil and topped with a little bit of mozzarella. While these aren't super low in calories, they are very very low in fat! The black beans provide protein and tons of fiber and antioxidants! The lentils help reduce cholesterol, provide fiber, protein helps regulate blood sugar. The health benefits of this meatless burger are fabulous! I will definitely be making these often and will work on new variations are well!
makes 5 burgers
1 cup dried red lentils
1 – 15.5 oz can black beans, rinsed and drained
1 red bell pepper
1 carrot, peeled
1 cup Italian seasoned breadcrumbs
1 egg
2 tsp garlic powder
5 Tbsp shredded mozzarella
1 Tbsp olive oil, for cooking
Cook the lentils in boiling water until tender, approx 15 minutes. They will look slightly flaky and a golden color. Drain well and place into a bowl.
Place the beans into a food processor and pulse until relatively smooth. Do the same with the red bell and carrot. Drain some of the liquid from the pepper as well.
Place all the ingredients, except for the olive oil, into the bowl with the lentils. I didn't use any salt and pepper and didn't feel like it was missing when it came time to eat but you can certainly season to your taste.
Form into 5 even patties. In a large frying pan, over medium heat, add in the olive oil and cook the burgers for approx 5 on the first side. Flip it and sprinkle on the mozzarella. Cover the pan until melted, and cook a total of 5 minutes on the second side as well.  Basically everything is cooked, you are just looking to heat through and crisp up the outside.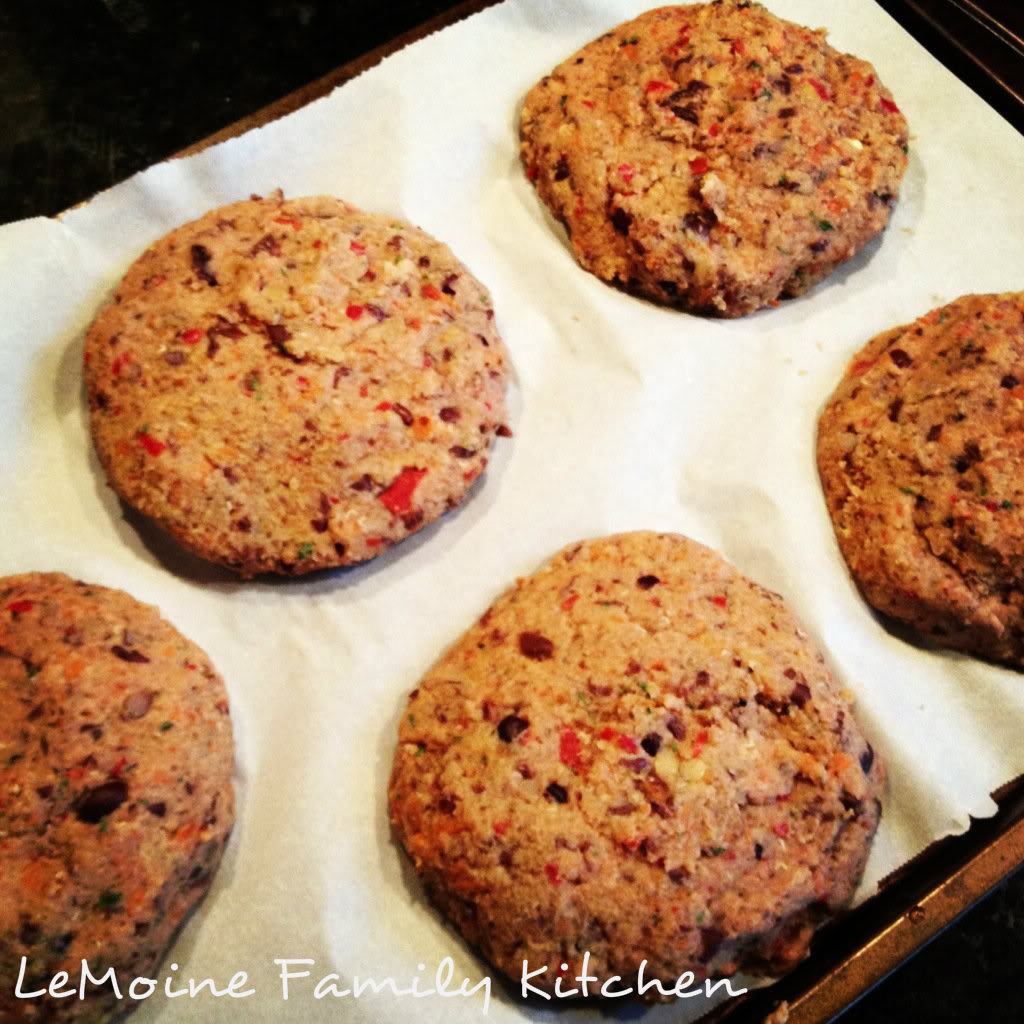 I served this flavorful lentil and black bean burger with roasted sweet potatoes and streamed broccoli. The entire meal came out to around 550 calories.
HAPPY EATS!!
*this is my original recipe*