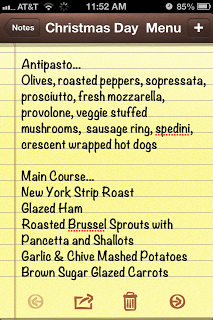 So the holidays are creeping up quickly and I happen to love all of it! Since we moved into our home back in 2006 we have hosted Christmas Day. While yes, it is a bit of work but I wouldn't change a thing! My husband and I both have decent sized families which means we have hosted approx. 28 people for Christmas Day.  I'm going to give you a few tips for cooking for a crowd without having to spend the day of in the kitchen for very long… you too should enjoy the joy and excitement of the day!
 A few weeks prior, I sit down and plan my menu. Heres mine for this year…
I'm also a crazed list person. I make my menu list, grocery list and prep list. The prep list consists of an outline of what I can do a day or two before and what to do day of. This is hugely helpful when you've got a whole lot going on. Besides helping you to get things prepped/cooked in a organized way, you won't forget anything if its all written down for you.
I absolutely follow the idea to keep it simple while still serving a very nice spread! Being Italian, Christmas Day for us always starts with antipasto. I make sure its mostly all cold items that can be prepped and plattered up the day before (this is when having a second fridge comes in handy).
For the main course I like doing both the strip roast and a ham. I used to make a prime rib roast but while flavorful there is just too much waste with all the fattiness. I am so glad I found this strip roast, it has the perfect amount of fat along the outside and comes out wonderfully every year! The meats can be prepped the day before… glaze the ham and rub the roast with seasoning and allow to sit in the fridge overnight.
For the sides… keep it very simple, a couple veggies and a carb. The sides can all be made the day or two prior and rewarmed the day of. For simple warming go ahead and once the food is cooked go ahead and put it in aluminum half trays.
Set the table the day prior and pull out platters that you will use to serve the food. You won't need to waste time rummaging through your cabinets in search of the right dish to serve up your meal. Every little thing helps to save time and unwanted stress while entertaining! Oh, and I even go as far as using place cards… avoids any awkwardness of people looking all silly trying to decide where to sit, who to sit near or who to avoid.
I am fortunate enough to half two wall ovens so on the day of I cook the roast and the ham in one and rewarm the sides in the second oven. Once everything is in the oven all you have to do is pop in the kitchen once in a while to check the progress of the meat and give the sides a stir to ensure even warming. Generally the sides take about 35-45 minutes (in a full oven) to warm through in an oven set at 325-350 degrees. If you don't have two ovens, no worries… cook the meats and once they are done take them out and cover with foil to keep warm then thrown in the sides at a slightly higher temp.
And as for dessert…. let the guests who offer to bring something bring that stuff so you don't have to worry about it.
I hope that those tips help you out and allow you to enjoy the holidays a little more!!
Happy Holidays!!!