Whether you've got leftover Thanksgiving turkey or you just picked up a roasted turkey breast at the store… this Turkey Pot Pie is a perfect comfort meal the whole family will love!!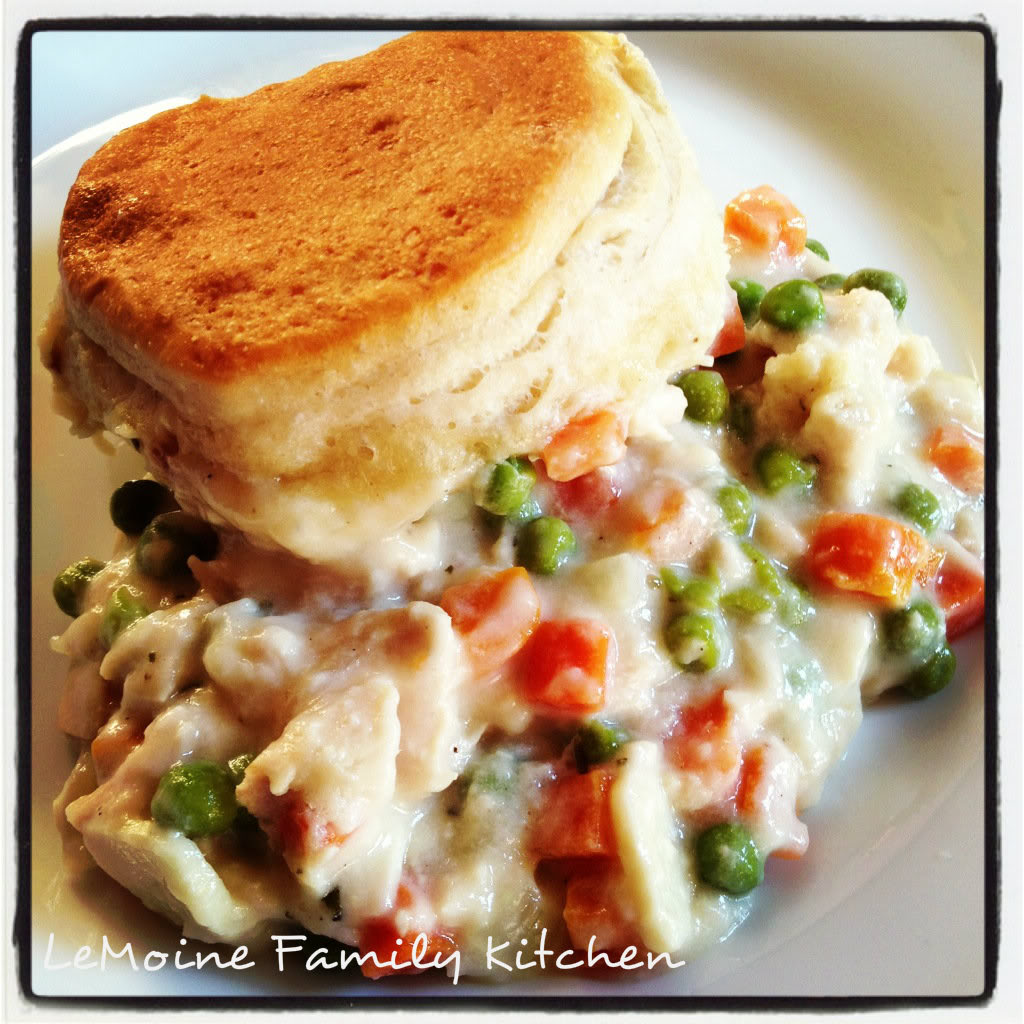 If you've been following along then you know I had roasted a whole turkey breast and made a couple dishes with it, a
Turkey Ranch BLT
and
Turkey, Broccoli & Wild Rice Casserole
. Even after these two fabulous dishes I still had more meat to use up! Yup an 8 lb turkey breast was going a long way! Over the weekend I had decided to use the rest in one of my favorite comfort dishes, Pot Pie. This is a really easy dish to put together and the bonus for me was that the kiddos loved it too, and its pretty stinkin' inexpensive too!
Turkey Pot Pie
1 Tbsp olive oil
4 Tbsp butter
1 small onion, diced
4 cloves garlic, sliced
2-3 tsp fresh rosemary, chopped
4 Tbsp flour
approx 3 cups turkey, diced or shredded
2 cups mixed frozen peas and carrots
4 cups milk, slightly warmed in a small pot
can of Pillsbury Grands Biscuits
Oven at 350 degrees.
In a large saute pan, over medium low heat, add the olive oil, butter, onion, garlic and rosemary. Cook until the onions and garlic are softened and the rosemary is fragrant.
Stir in the flour to coat and cook for a minute or two. Add the milk and whisk until smooth. Allow to simmer for about 8-10 minutes until slightly thickened.
Once the sauce has thickened, add in the turkey, peas and carrots. Simmer for another 5 minutes.
Pour the pot pie filling into a pan (note: I should have used something a little smaller since i didn't have enough biscuits to cover completely).  Place the biscuits over top. If you are looking for a thinner crust cut each biscuit in half to make two thinner rounds.
Bake for approx 15 minutes or until the filling is bubbly and the biscuits are golden.
HAPPY EATS!!!
*this is my original recipe*