I sure do love an easy and delicious appetizer! These Puff Pastry Brie & Apricot Bundles are perfection!! A few ingredients, easy to make and will be devoured by friends and family! 
I have had such a fantastic weekend celebrating 5 years of marriage! The hubby and I "went away" to Spring Lake for a night… massages, burritos, beach, dinner then to finish the night off champagne, rose petals and chocolate! Perfection. Of course all that flew by before it was back to reality! Soccer game, time with the family, dinner at the in laws for our anniversary… busy busy busy! Needless to say, I got a bit of a break from the kitchen this weekend and well these fabulous bites of deliciousness is the only thing I made this weekend. With just 4 ingredients and a quick assembly you can not go wrong! The brie melts into the amazing puff pastry, sweetness of apricot preserves  and a little crunch from chopped almonds… pure yumminess!
 I made these just as an hors d'oeuvre but you can certainly throw a few overtop a mixed greens salad with sliced strawberries, blueberries and slivered almonds then drizzle with a strawberry balsamic and you've got a perfect light meal!
Brie & Apricot in Puff Pastry
makes 24 hors d'oeuvres
1 pkg puff pastry (2 sheets)
apricot preserves
6 oz brie log
a palm full of almonds, fine chopped
egg wash (1 egg + a tsp water, lightly beaten)
Oven at 375 degrees.
I was thrilled to find brie in a log form, makes it so much easier to make these yummy treats! Slice the brie log into rounds (I got 24 slices out of the log). Set to the side.
Unroll the 2 sheets of puff pastry and cut into 12 even squares.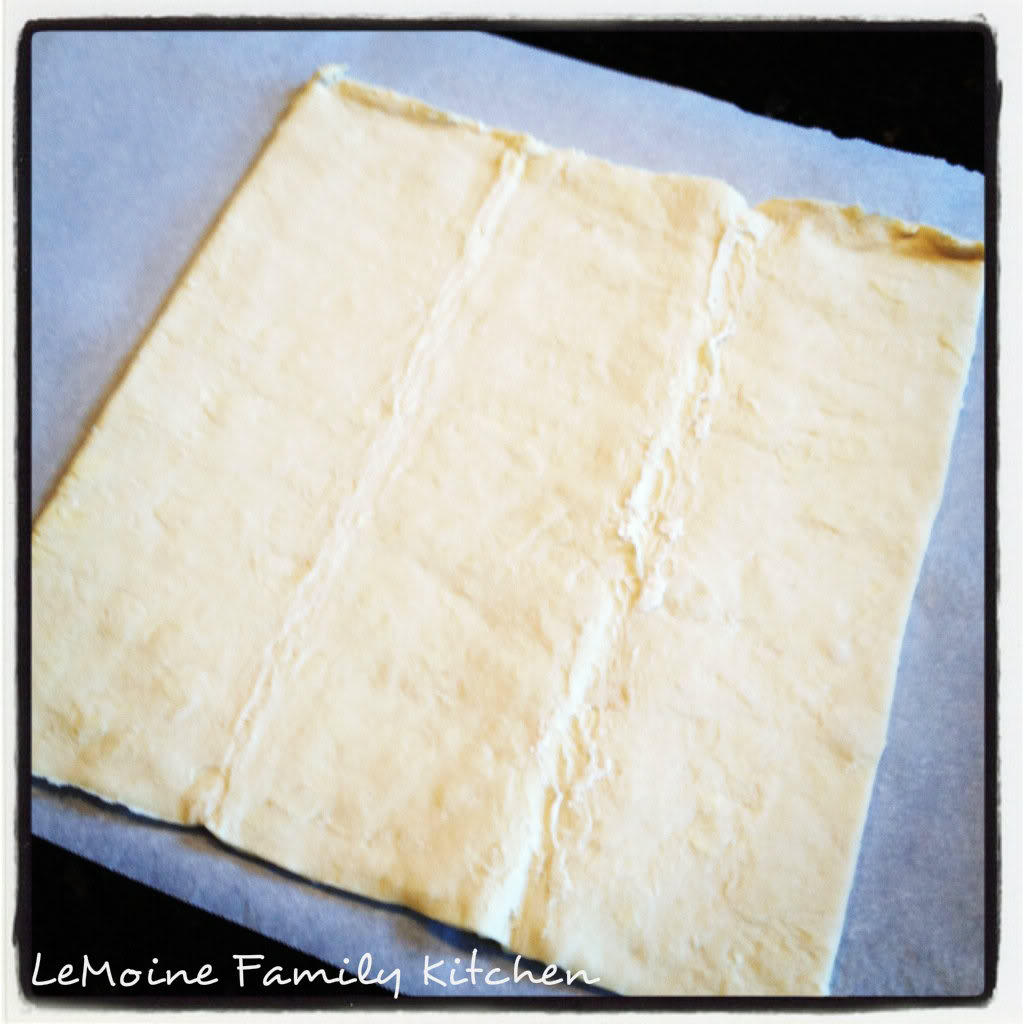 Place one piece of brie on each square of puff pastry. Place a small spoon full of apricot preserves on top of the brie.
Fold each end of the puff pastry to the center being sure that all the edges are closed.
Place on a parchment lined baking sheet, Brush each brie puff with the egg wash and sprinkle a little chopped almonds over top.
Bake for approx 15-18 minutes, until golden brown.
***DON'T FORGET TO CHECK OUT THE DESSERT CHALLENGE POST & BE SURE TO LEAVE A COMMENT WITH A MYSTERY INGREDIENT***
HAPPY EATS!!!!
*this is my original recipe*