Simple and delicious pasta dish. This Farfalle & Peas in a Light Cream Sauce is rich, creamy and so flavorful. This is a great weeknight meal. 
Happy Monday!!! Hope everyone had a fantastic weekend!!! We had a great one here… Jack had his first soccer "game" Saturday and boy was it adorable watching the kids run around!!! After the skies opened up on us we all of course headed to get food! What else right?!?!? Then of course there was football Sunday with more yummy food! This pasta dish is REALLY easy to make and super quick to put together and my kids loved it! As for the "mostly" part of the title… well the pasta dish itself is meatless but I topped mine off with some wonderful crispy prosciutto!
Now here we are another weekend having flown by, back to the daily grind. I had recently asked on my
FB page
 what type of foods/meals would you all be interested in seeing on the blog. Most people are looking for quick, flavorful and maybe even kid friendly. There was also a request for a dish using tortellini and while I didn't have any on hand, this sauce would be fabulous with tortellini as well!
1 lb farfalle pasta
1 small onion, chopped
5 cloves garlic, sliced
2 Tbsp olive oil, divided
1/2 lb prosciutto
1/2 cup vegetable broth
1 pint light cream
2 cups frozen peas
salt and pepper
1/4 cup pasta water (if needed)
We'll start with the not so meatless part of Meatless Monday, and if you want to keep it meatless go ahead and skip this part. Using half the prosciutto at a time, stack it up, roll it then slice it. Repeat with the rest. Into a pan, over medium low heat, add 1 Tbsp olive oil and the sliced prosciutto and cook until perfectly crisp, approx 8 minutes. Remove from the pan and reserve on a dish.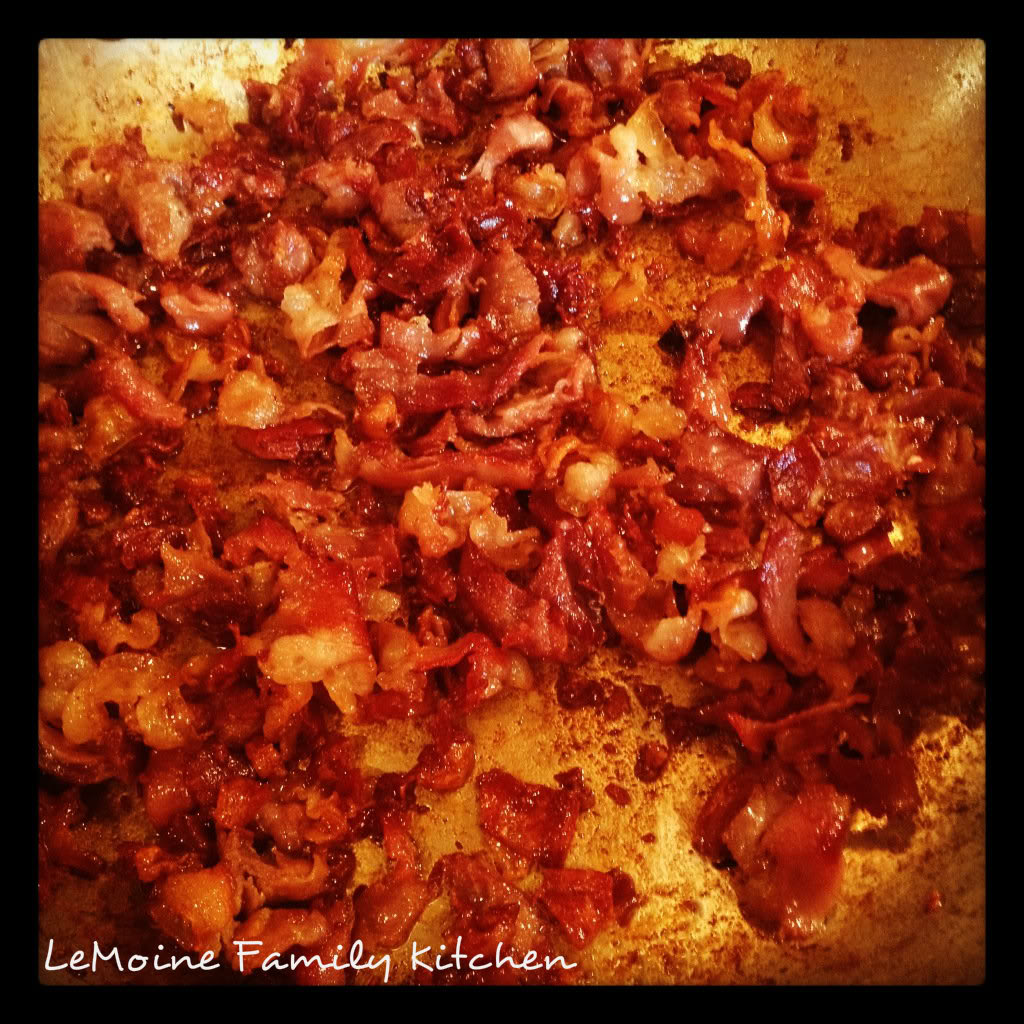 Go ahead and get a pot of water boiling for the pasta. In the same pan you crisped up the prosciutto in (*disclaimer: my pan turned out to be a little on the small side as you will notice in the pictures lol) add 1 Tbsp olive oil, chopped onion and garlic, salt and pepper. Sauté until softened. Add in the vegetable broth and allow to simmer for 4-5 mins.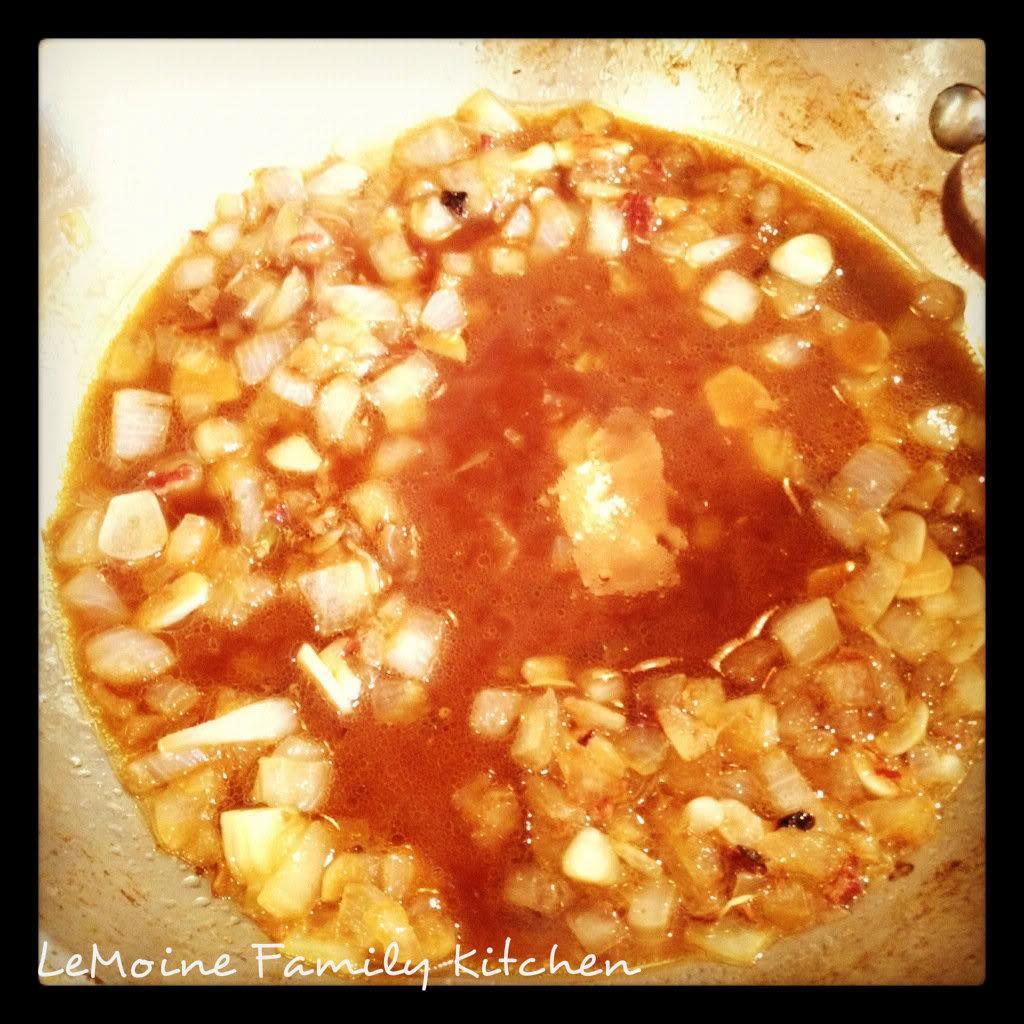 To the pan, add in the light cream and allow it to simmer for approx 7-8 mins. Cook the pasta a little extra al dente. Once the pasta has reached this point strain the pasta, reserving some of the pasta water, and add it directly into the sauce. Allow to simmer until the pasta is cooked.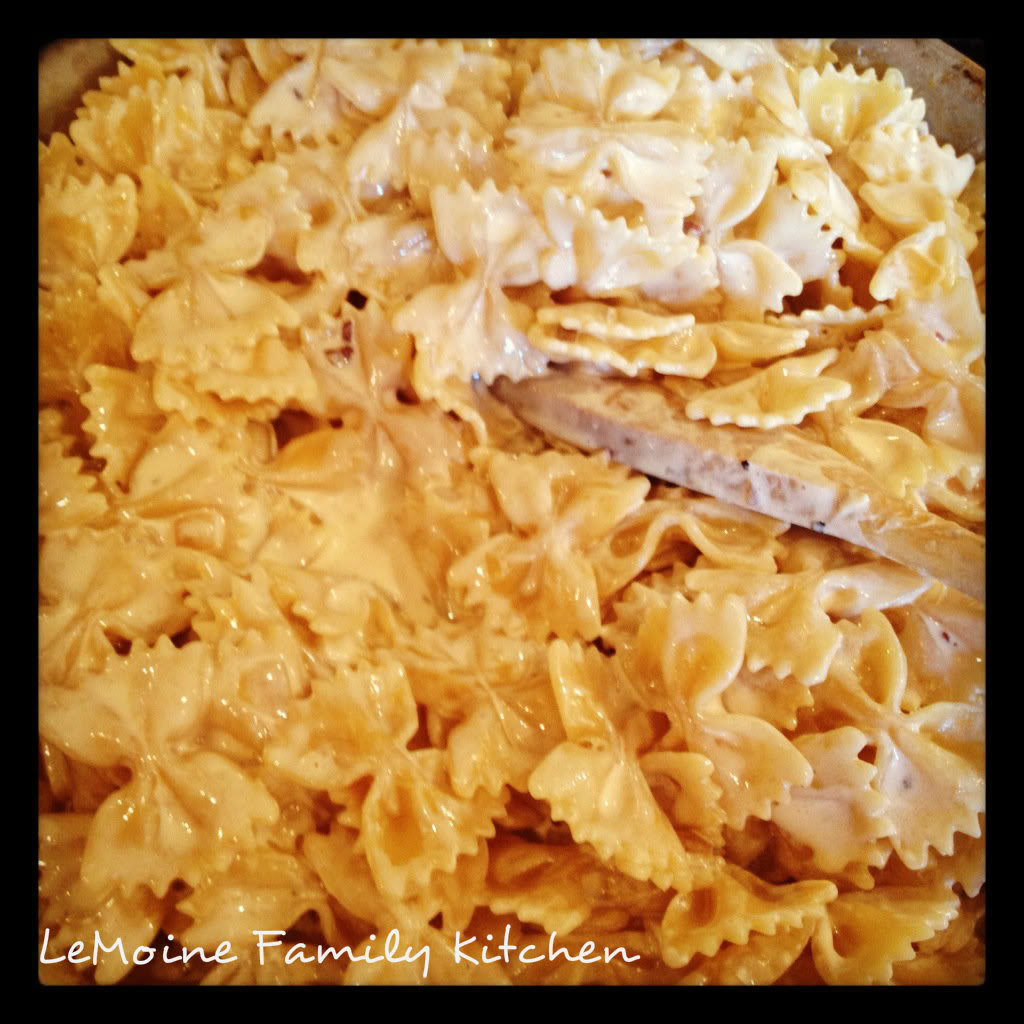 If the pasta has absorbed most of the sauce you can add a bit of pasta water to loosen it up.
At the very last minute stir in the frozen peas. They only need a minute or two to defrost and warm through. Once you've plated the pasta, sprinkle with the fabulous salty, crisp prosciutto!
HAPPY EATS!!!!
*this is my original recipe*