Strawberry Cherry Jam Bars. You are going to want to have these delicious bars on hand for breakfast and dessert, they are so good!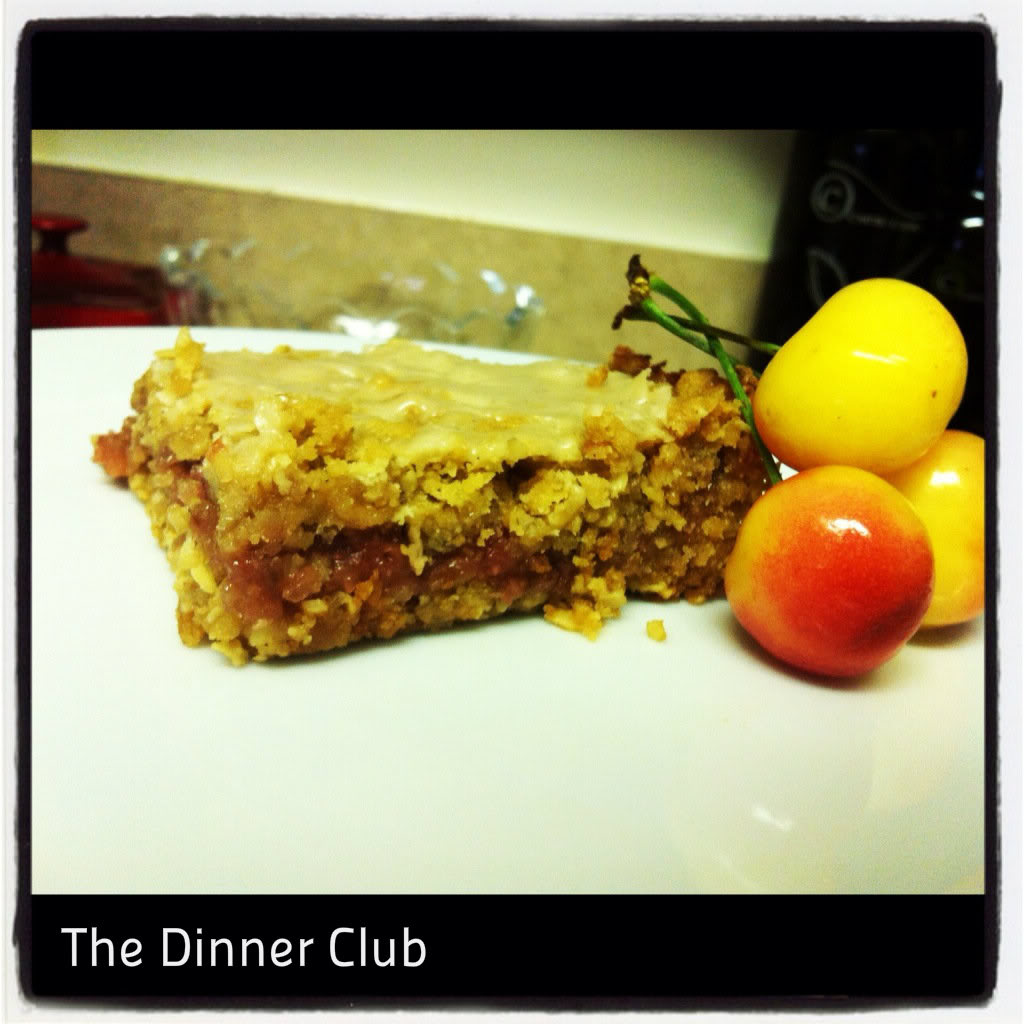 So….thankfully my darling friend put a wonderful post together!! She's back!!! Natalie of  The Dinner Club is back with another great recipe for you all!  Her Strawberry Cherry Jam Bars are to die for!
I came across this recipe when I was on the hunt for a "healthier" dessert. It has oats and fruit (ignore the 1 1/2 sticks of butter and the brown sugar), healthy enough for me! They were DELICIOUS. The first time I made them, I followed the original recipe and used store bought strawberry jelly. The I made them again, using jam I made myself from fresh strawberries and cherries. Oh. My. God. Heaven opened the gates, angels came down and sang to me. It was a food miracle!


Seriously though, they far FAR surpassed the original recipe and I knew from that moment on, I would never look at oats the same way again. I'm a changed woman because of these bars.
Back to reality. The recipe doesn't state it but I poured a basic powdered sugar glaze over top them after they had cooled (but before I cut into it). One of the best things about this recipe is its very forgiving. I've made it with a little more butter (hehehe), a little less sugar, a little more oats…just follow the basic measurements but you can fudge it a bit if you're running low on something.
Strawberry Cherry Jam Bars
-1 1/2 sticks butter (cubed)
-1 1/2 cup flour-1 1/2 cup rolled oats (instant) -1 cup packed brown sugar -1 tsp baking powder-1/2 tsp salt -12 oz strawberry or strawberry cherry jam (recipe to follow)-Preheat oven to 350 degrees.-Mix flour, oats, sugar, baking powder & salt in a large bowl.-Add cubed butter and fork through dry mixture until it resembles crumbs.-Butter/spray with nonstick spray a 9″x13″ baking dish.-Take half the oat mixture and press it down into the baking dish to form the bottom layer of the bars.-Spread jam evenly on top of bottom oat layer.-Take remaining half of oat mixture, spread evenly and gently press down to create top layer.-Bake 30-40 minutes til light golden brown around edges.-Let cool completely before cutting into bars.
Strawberry Cherry Jam
-1 lb fresh strawberries
-1/2 to 1 cup fresh pitted cherries (depending on how tart they are)-4 to 5 tbsp sugar -1/2 tsp vanilla extract-Juice of 1/2 lemon -Add all ingredients into a small sauce pan and stir over medium heat.-After a few minutes, when the fruit has softened, take a potato mashed and mash up the fruit.-Continue to cook over medium heat, allowing to boil slightly. Stir occasionally. -Cook until mixture has reduced and is thick. Jam will thicken more as it cools. Slightly adapted from The Pioneer Woman.