Heavenly Balsamic BBQ Sauce. Its so easy to make your own BBQ sauce and this one is super flavorful!. Great on grilled chicken!
Step away from that $8 bottle of store bought "fancy" BBQ sauce! BBQ sauce is really simple to make and you can make endless varieties!! While tonights dinner is
macaroni and cheese and chicken nuggets
    a bit rushed, I was planning ahead for tomorrows dinner and came up with this! So I was thinking, I have a rack of baby back ribs and a package of chicken breasts in the fridge… lets make BBQ sauce!
I wanted something a little bit different then a traditional BBQ sauce, so I went looking through my fridge and pantry to see what I could find. With the help of a few "different" ingredients I came up with a beautifully tangy, sweet and rich Balsamic BBQ Sauce that is out of this world yummy! Sweet honey and ripened nectarine and the tang of balsamic vinegar… yes please!
Balsamic BBQ Sauce
1/2 cup ketchup
3 cloves garlic, finely chopped
2 nectarine, finely chopped
2 Tbsp scallion, chopped
3/4 cup balsamic vinegar
1/4 cup packed light brown sugar
1/4 honey
1/4 cup water
2 tsp salt
It seriously doesn't get any easier then this…. throw everything into a sauce pot and let it simmer for 20 minutes! The sauce will have thickened quite a bit.
Once it has completely cooled- NO JOKE, don't rush! If you try to blend this while its hot the steam will blow the top off your blender and not only will your wonderful sauce be splattered all over your walls but you will burn yourself- pour it into a blender and blend to the consistency of your preference. You basically want the pieces of nectarine broken up enough to stick with the sauce on the chicken. Smear all over your chicken and grill away!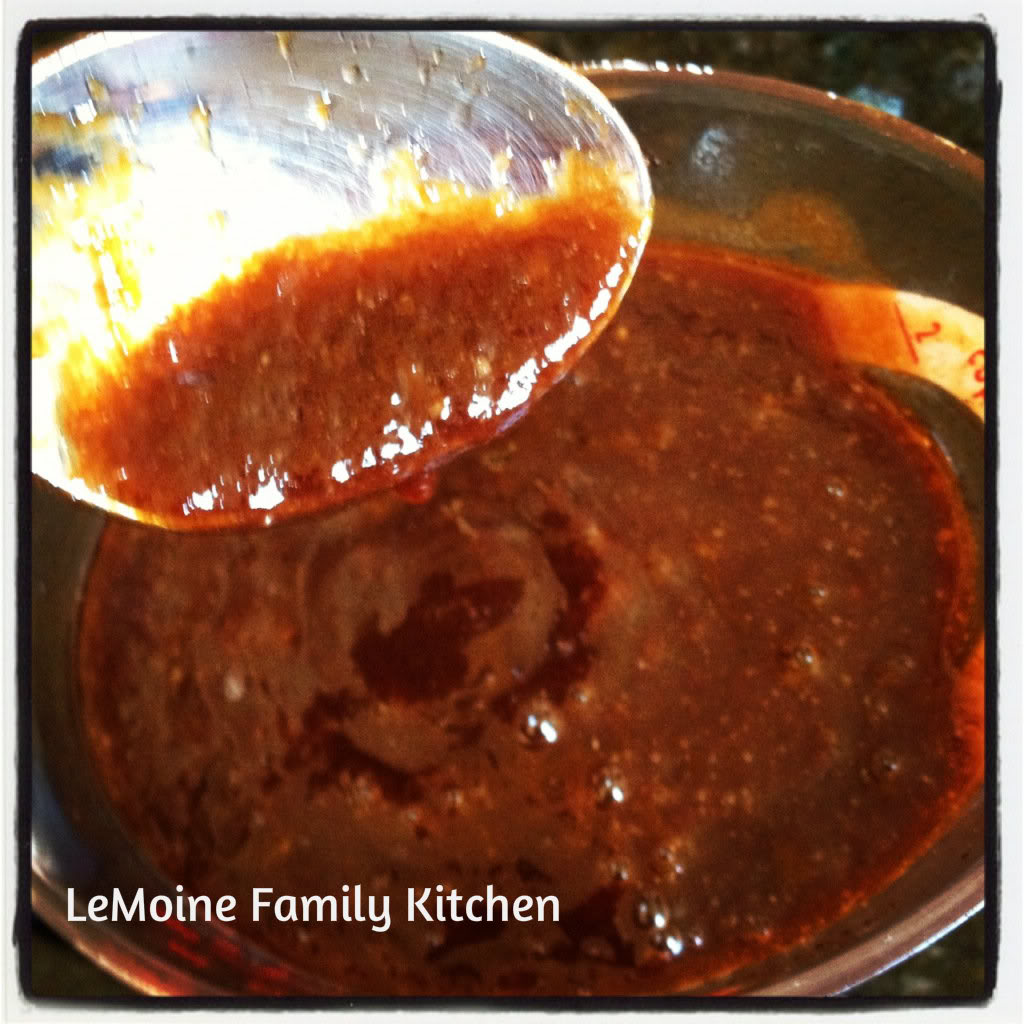 HAPPY EATS!!


*this is my original recipe*