Vidalia Onion & Peach Tomato Sauce. A wonderful twist on a classic tomato sauce. This is slightly sweet and just perfect for summertime!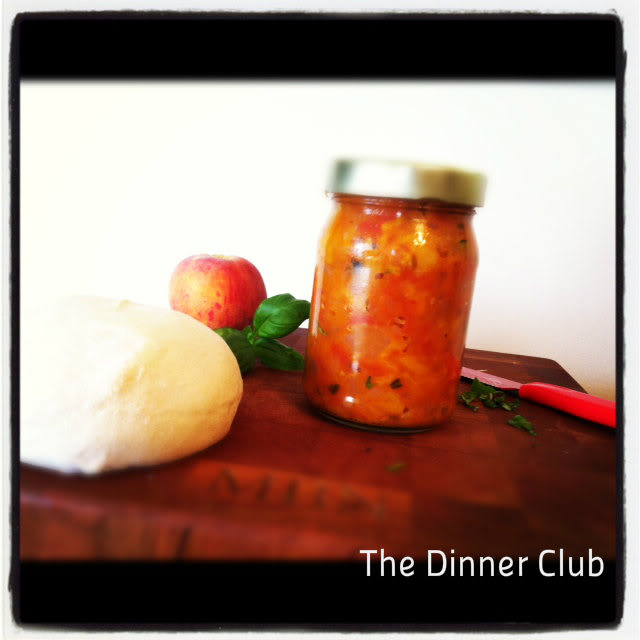 I'm so excited to have our first ever guest post!!! Natalie of The Dinner Club is a friend of mine and is a wonderfully talented cook and baker! Be sure to check out her page and give her fabulous recipes a try! So here it is…. ENJOY!!! 
 If you want the perfect sauce for summer, this is it. Sweet, savory, onions at their finest. Peaches? Don't be scared by the peaches, you're the boss of this sauce-remember that. They give it a sweetness but it's not a "feels like I'm eating peach cobbler" sweetness. The tomatoes, garlic and red pepper balance out the peaches and onions for a slightly spicy tang. It will blow your mind, forever changing your view of peaches. And sauce for that matter.
I was inspired to make this by a peach and onion chutney I once had on some bruschetta. Instantly I envisioned this sauce on a pizza and boy was I on target! Pizza is my, hands down, favorite application for this. But a big bowl of steaming hot rigatoni is also a nice marriage. (don't forget the parmesan)
Vidalia Onion & Peach Tomato Sauce
-4 tomatoes (I used 2 "beefsteak" and 2 "on the vine" but any 4 tomatoes will do)
-4 peaches
-1 medium to large vidalia onion
-3 to 4 cloves of garlic
-1/4 cup white wine or 1 tbsp peaches schnapps
-2 tbsp chopped fresh basil, divided
-1 to 2 tsp sugar (to taste)
-dash of red pepper flakes
-salt (to taste)-In a large sauce pot, coat the bottom of pan with about 2 tbsp of olive oil
-Finely dice the onion and add to the pot with a sprinkle of salt to help soften the onions
-After a few minutes, when onions become translucent, add finely minced garlic cloves and red pepper flakes
-Give those another few minutes to cook and soften then add your alcohol of choice (wine/schnapps)
-Peel and dice the tomatoes and peaches, add them into pot with another sprinkle of salt (season at every layer of ingredients gives you better depth of flavor)
-Let this cook about 20 minutes (covered with a lid) to allow the tomatoes and peaches to soften and release some of their juices
-Take a potato masher (or blender if you prefer a less chunky sauce) and mash up the chunks of tomato and peach
-Add 1 tbsp of the chopped basil, sugar and more salt (if needed)
-Let this cook for another 30-40 minutes, stirring occasionally, until it's reduced and become slightly thicker
-If storing this sauce in the fridge, allow to cool before bottling it, adding the final tbsp of basil right before jarring it. If serving it immediately, add final tbsp of basil once you've turned off your stove