Chocolate Chip Oatmeal Cookies- such a delicious treat with the little added bonus of  the hearty healthy oats! My kiddos approve! 
Jack, my 3 year old wanted to bake cookies again so I decided to try making a recipe for some very kid friendly Chocolate Chip Oatmeal Cookies. Our cookie venture was a success, in Jacks words, "Mommy that was delicious, these are yummy in my tummy"! Isn't he adorable! He loves being in the kitchen (and yes, please ignore the garbage bag in the picture haha)! And when Ryan (16 mos) woke up and had one he said "Mmmmmmm"…. he doesn't speak much yet.
I wanted to make a cookie that I didn't mind giving the kids a few because it was a "healthier" cookie! These cookies are not overly sweet, they are wonderfully light. We even threw in a secret ingredient, one mashed banana, to add a naturally sweet moistness to the cookie, plus banana is good for ya! They are so easy to make and the best part, they stay "puffed up" after they cool. I admit a cookie pet peeve of mine… when a cookie looks gorgeous in the oven then completely deflates when you take it out!
Chocolate Chip Oatmeal Cookies
makes approx 34 cookies
1 stick unsalted butter, room temp
1/2 cup granulated sugar
1/2 cup light brown sugar
2 eggs
1 banana, lightly mashed
1 tsp vanilla
2 cups quick cook oats
1 1/4 cup all purpose flour
1/4 tsp salt
1 tsp baking powder
1/2 tsp baking soda
1 cup chocolate chips
Oven at 375 degrees.
In a large bowl add the butter, granulated sugar and brown sugar. Using an electric hand mixer, cream until the mixture is well incorporated and fluffy. Add in the eggs, vanilla and banana. Mix until well combined, smooth and creamy looking.
In another bowl mix the oats, flour, salt, baking powder and baking soda. Add the dry mixture into the wet mixture in two batches with the hand mixer on low.  Once mostly combined turn speed up to 2 and mix for another minute. With a wooden spoon or rubber spoonula mix in the chocolate chips.
I use a mini ice cream scoop, approx 1 Tbsp, to scoop the dough onto a parchment or foil lined cookie sheet. Spoon the dough approx an inch or two apart from each other. Start the cookies on the lower half of the oven and bake for 6 minutes. Move to the upper half of the oven and bake another 3-4 minutes. You want the cookies to be lightly browned on top.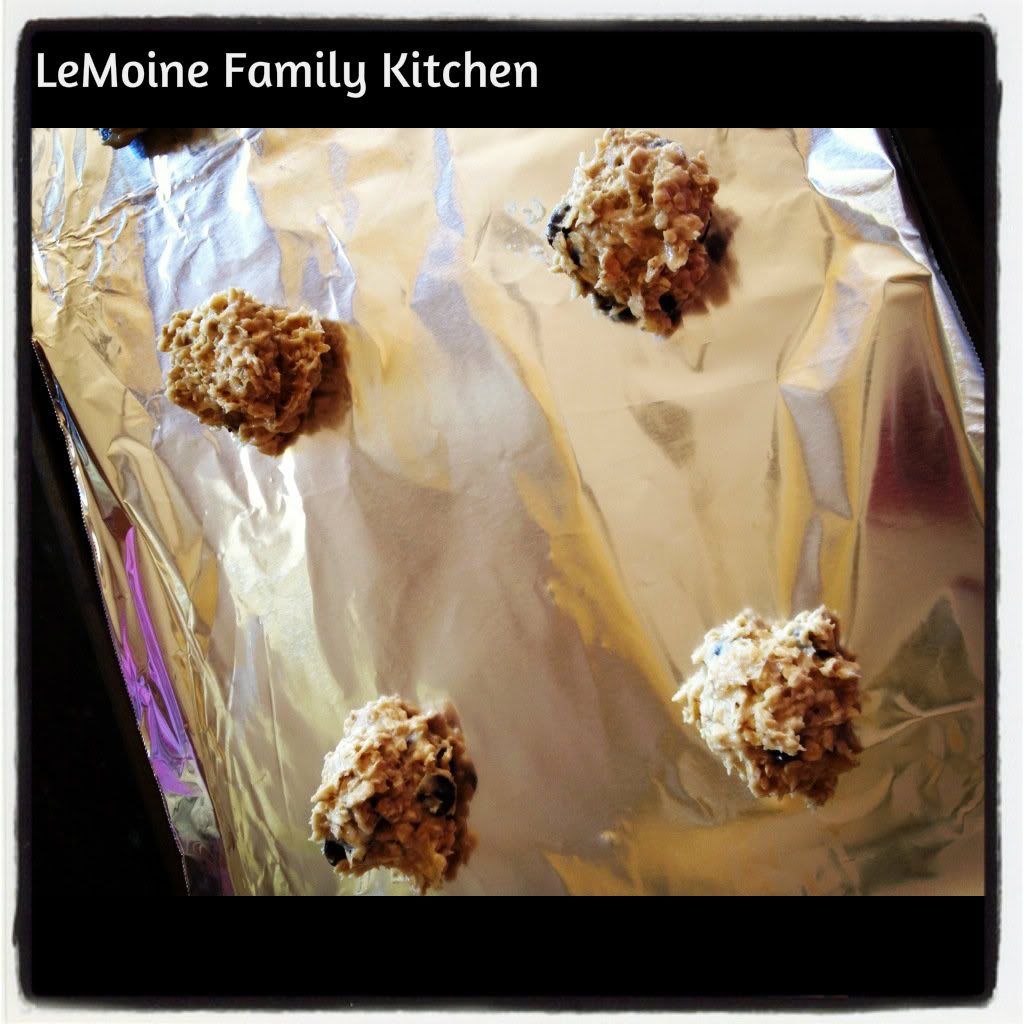 Cool the cookies completely on a cooling rack before plating. ((Notice the gorgeousness of the cookie… no deflation here, HOORAY!))
HAPPY EATS!!!
*this is my original recipe*